Stampin' UP!'s Saleabration starts tomorrow January 5th and the awesome opportunity to get 5 FREE packs of 6×6 EXCLUSIVE designer papers
****- 200 sheets and an approx $70 Value.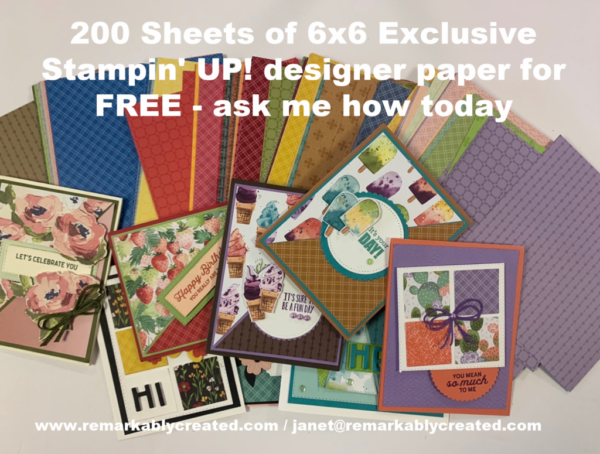 Check the papers out along with 8 fun samples created with the papers and my team welcome gift in the video belwo along with some of what I do for your as your sponsor.
I would love to welcome you to the Stampin' UP! community and my team of RemARKable stampers.
As a demonstrator with 25 years I have many benefits to extend to you regardless of whether you join simply to be your own best customer, for the community, to pay a bill or a little of all the reasons you can enjoy the "demonstrator" side of Stampin' UP!.
Do you know that the KIT come with ZERO risks and ZERO obligation seriously.
Nothing to lose by getting a kit and hanging out with us for the next 6 months !!!
How easy is it to join and what are my obligations.
*NO obligation with the kit – $300 in personal purchases and or sales in the next 6 months if you want to remain active.
STEPS TO JOIN
1. Make a list of $125 in product from the Annual Catalog and / or Spring Catalog you would like in your kit – You'll pay $99 + tax – Shipping is FREE.
2. Fill out the starter Kit form HERE
3. Make a date to join us with your friends January 9th and 10th at our virtual FREE event
4. Sit back and wait for a box of happiness from Stampin' UP! and a welcome gift from me as well as an email with links to our online community!
I have welcome kits ready to mail, a team waiting to welcome you and lots of fun awaiting you to include a weekend Party January 9/10 that you can invite your family and friends to. Come join me in the "remarkable" adventure.