Looking for tips and training as a Stampin' UP! demonstrator to grow your business?
No matter where you live in the world – the training center has classes you can access.
The RemARKably Created Training Center Gives me a chance to use my 21 years experience and ongoing experience in my active personal business – selling, training, recruiting , team building and adapting to the ever changing face of direct sales & social media to help fellow Stampin' UP! demonstrators have a RemARKable Stampin' UP! experience.
THREE WAYS I offer Training & Support
1. Via the classes below
2. Via my FACEBOOK PAGE with daily inspiration, occasional coffee chats, timely reminders, and business tips.
3. Via my demonstrator newsletter – click here – check demostrator to join

HOW are the Classes Taught?
The RemARKable Created Training Center Classes are unique in the "training" world – they are not a one hour webinar , a download, ebook, a simple recording you only listen to, a limited for "this" time only class or any thing else you may be used to from virtual online training.
The Class is housed in a it's own unique closed facebook group – each class in it's own group to focus specifically on the topic of the class.
Housing the class in a closed facebook group:
*gives you the opportunity to ask questions & get answers
*allows you to view at your leisure & in your time zone,
*allows you to network with other class attendees through sharing, commenting and questions.
*gives you a chance to comment on homework assignments, tips, ideas posted
The Class is taught featuring videos, homework, graphics, handouts, and access to me long after the materials are posted.
The ONE time Class registration provides you with
*unlimited access to the class indefinetely
*membership in our RCTC facebook group – home to a free class on reading your reports, blog hops, tutorial coops, swaps and general sharing by others taking what they do as demonstrators beyond simply enjoying the discount.
*me as I pop in to answer questions and post new and timely ideas as the class evolve

*access to main training center facebook group that includes blog hops, tutorial coop, pinterest board, free reports class, on going networking sharing by my team and members of the group & class.
CURRENT Events in the Training Center Facebook Groups
*RemARKable team members enjoy all training for free as part of my upline support.
RemARkably Created Training Center Facebook Group – CLASSES NEVER EXPIRE and are continually updated with new tips and changes to platforms.

This closed group is for anyone taking at least one class offered by the training center as well as members of Janet's RemARKable Stampers team.
This group is home to blog hops, tutorial coop, swaps, pinterest board, free reports class, ongoing networking and sharing.

1. Making money as a Stampin'UP! demonstator?
Find all the details & registration link HERE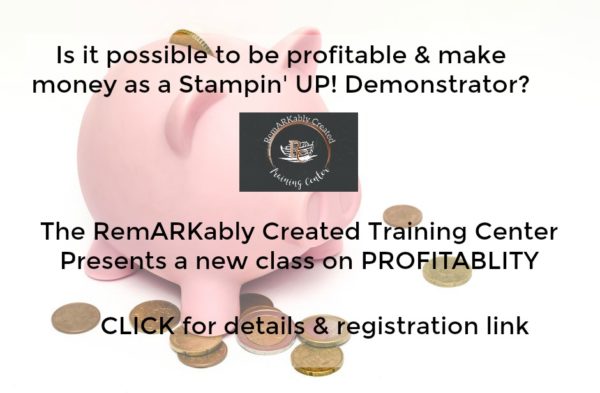 2. Buidling a Business with STampin' UP!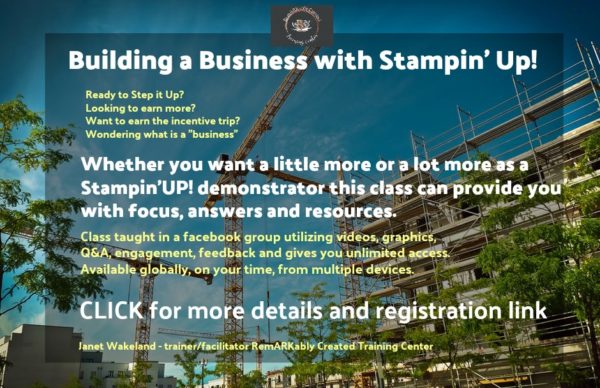 This class focuses on building a business so that you can enjoy the full offerings of Stampin' UP!'s compensation plan.
In addition to business support and a monthly video on where to apply your energies each month the class also includes great support for earning the incentive trip such as scenarios for incentive trip earning along with a break down of the points to earn the incentive trip but is a class designed to help you build a business.
No matter when you join this year all past class materials are available to you.
In additional to initial training, monthly tips will be added, timely tips related to newly announced SU programs, catalogs, promotions, great ideas shared and gather, fun new graphics and more will be also be added through out the year.
59.99 for a class that never ends! More Details and Registration HERE
3. SHARING WHAT YOU LOVE – $29.99 unllimited access – register HERE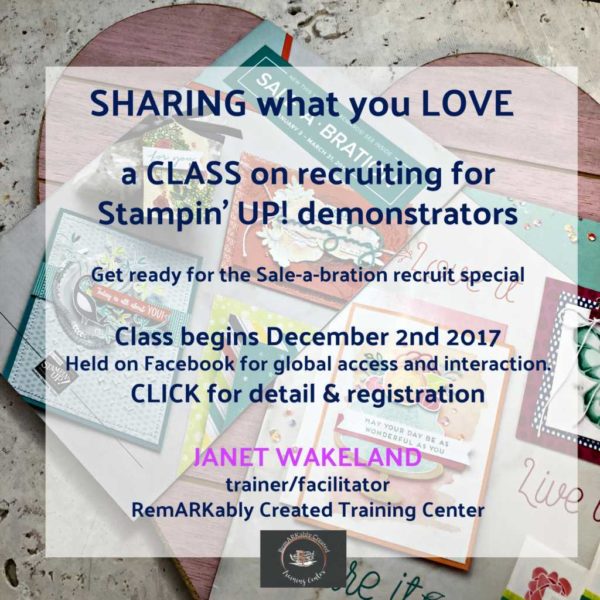 4. YOU TUBE for Demonstrators – video is powerful – video can change your business. Are you using it? Why not? Come learn about equipment, you tube basics, ideas for videos, basic editing and so much more.
Details on this $10 class and registration HERE
5. FACEBOOK is an amazing platform for Stampin" UP! Demonstrators both for our customers and our teams. It has made a huge impact on my business growth. Facebook Groups, Pages, Engagement, Who, what, where, why, algorithms, insighs, facebook live, facebook parties, facebook, facebook, facebook.
Details on the $10 class and registration HERE
More classes Coming – Time Management for Demonstrators, Organization for Demonstrators, Taking your business online, Kitastics (kits, kits,kits), Newsletter/Mailing Lists, Demonstrator Basics…..
Join my mailing list and check the DEMONSTRATOR box so that I can add you to the training center newsletter.
*If you are a RemARKable Stamper Team member you receive this training for free and you also receive additional support and monthly virtual training parties on our team Facebook group – contact me if aren't a member of the group yet or any of these classes – janet@remarkablycreated.com