Wishing you a Happy New Year.
Each year I participate in the ONE WORD concept of putting intentional focus on an area of life. Using the one word as a filter to run ideas, decisions, actions through.
This year my word is "SELF-CARE". I found that the greeting here resonated with my one word this year and couldn't wait to find a perfect way to use.
I love to surround myself with inspirational images, books and quotes and created this card to fulfill that love.
The humming bird was embossed on vellum with white embossing power and colored on the back with assorted Stampin' Blends. I found that if you let the blends dry and then go over them again you darken even the dark blends which I prefer when doing this technique.
THe sweet little border edge is from the Be Mine Stitched framelits. A perfect easy to add accent.
And lastly I love how the vellum softens the designer paper behind it. I added a glue dot in the top two corners and used the brads as an additional accent but also as another way to secure the vellum.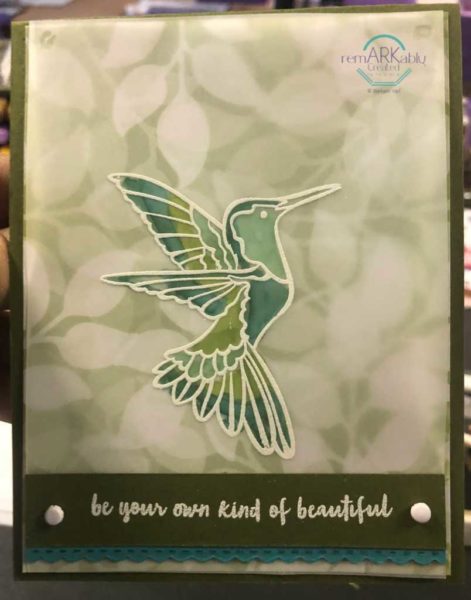 Shop for new products TWO ways
1. As my best customer (order online anytime or email your orders if you prefer help entering your order).
OR
2. As your best customer saving 20% on personal Purchases
January 3-March 31st
1. Select a Level 1 Sale-a-bration product for ever $50 in purchases (before tax/shipping) Select a Level II Sale-a-bration product for every $100 in purchases (before tax and shipping)>
OR
2. Collect orders from friends and earn Bonus SHOPPING DOLLARS
OR
3. Join as a demonstrator and enjoy access to Demonstrator Perks ,Customer perks and Host perks as your own customer!
Great reasons to Join My Team