Happy Fall. Fall is pumpkins, candy, crisp air, apples, pretty leaves, football, back to school and so many of the things I love that make fall my favorite season.
How fun that our theme is a Halloween and I get to reminisce about pumpkin carving. These photos are from 1991 when our first born was just 2 1/2. We belonged to an amazing cooperative program for parents and toddlers in Bothell, WA. After an outing selecting pumpkins we spent an enjoyable evening carving away.
It's hard to believe my baby was ever that little or my man that young. Thankful for photos that captured a moment in time.
And as you can see I am hardly caught up in my scrapbooking. I have a "inspired" style of scrapbooking – going back and scrapbooking memories that I am inspired to put on a page because of a story I want to tell, a product that has inspired me or a sample I am inspired to create.
At our upcoming retreat we are offering our guests their chance to select from tracks to meet their creative needs – cards, scrapbooking and 3D/Home Decor projects. This is one of the 9 scrapbook pages those who chose the scrapbooking track will be making, so in this case I was inspired by the projects I am creating for them to tell this story.
The boxes of photos I have and the endless new ones along with all the great product that Stampin' UP! introduces 3x a year ensure I will always be an "inspired" scrapbooker.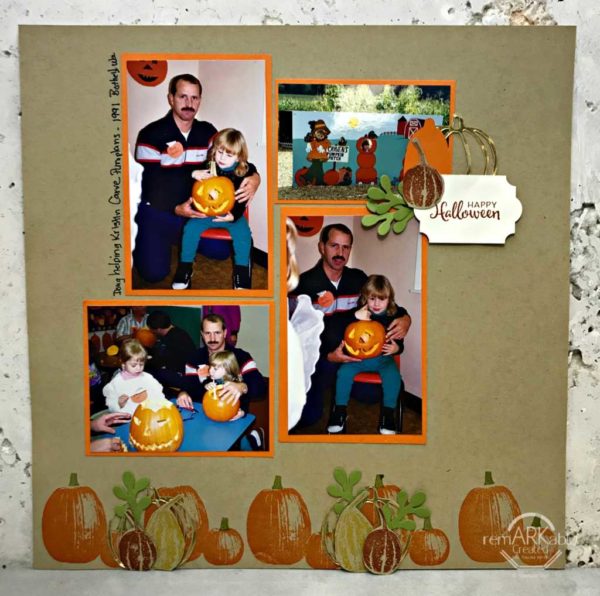 No head off on our hop to see what inspires you by these amazingly talented fellow demonstrators.