The New 2017-18 Stampin' UP! catalog is overflowing with designer paper, ribbon, embellishment, stamp & framelit goodness.
Just look at all the "new" in this catalog. WOW.
You will want to
1. Get your hands on THIS CATALOG
2. Get a taste in a cost effective way of all the new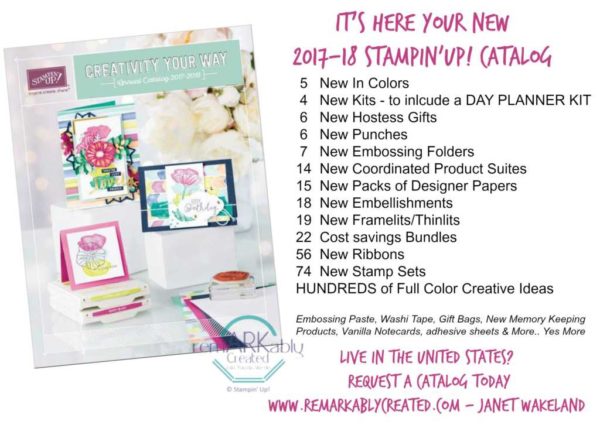 Once again I will be offering product shares, ribbon samplers and new this year In Color Samplers and an In Color Club
What is a product share or ribbon sampler?
A product share or ribbon sampler is a way to cost effectively get your hands on a taste of EVERY new paper, EVERY new ribbon.
For my DSP sampler I do 6×6 pieces of every new designer paper, for my ribbon shares I do 1 yard pieces of each ribbon.
Why order a product share, ribbon sampler or join an incolor club?
Because it's a cost effective way to get your hands on EVERY new paper, EVERY new ribbon and EVERY new embellishment.
Because you may not need or want 10 yards of just one color ribbon.
Because you may not need or want a full pack or designer paper
Because you may not have the space to store 56 full size rolls of ribbon or 15 packs of designer paper
For example, to purchase all 56 new ribbons would be about $345 – WOW – to get just 1 yard of each of them so that you have a sample and can decide which ones you really like will be around $30 (exact pricing will be in my newsletter).
Who can order your product shares, ribbon samplers?
Anyone living in the US – shares are open to the public and demonstrators.
*My team members receive team pricing and currently my May customer special is a discounted product share if they place an order this month.
I'm a Demonstrator How do I do product shares?
Are you a demonstrator and want to know how to offer something like this to your customers? Check out the newest class in my training center.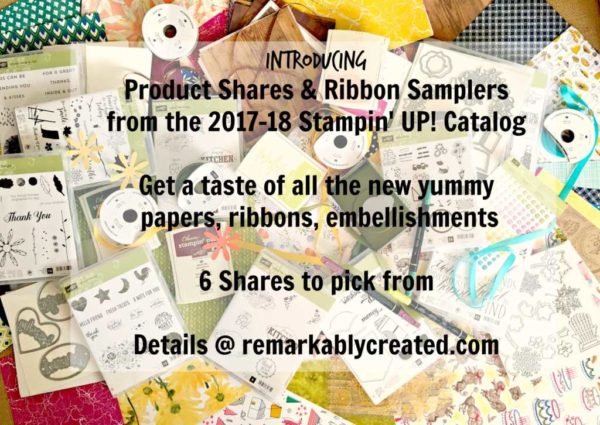 I will be offering the following options for you to get a taste of all the new products coming.
In Color Club
In Color Product Sampler (a sampling of the cardstocks, ribbons, designer papers, embellishments feauturing the new 2017-19 In Colors)
Designer Paper Shares ( a 6×6 sample of the new designer papers)
Designer Paper + Coordinating Cardstock (a sample of the new designer papers and the cardstock from the coordinating packs)
Desginer Paper & Ribbon Shares (a sample of the new designer papers and new ribbons)
Ribbon shares (1 yards samples of the new 56 ribbons!!)
RemARKable Samplers (designer papers, embelllishements, ribbons and cardstock)
I will begin accepting orders in keeping with Stampin' UP! policy on May 26th and I will place my first product orders on June 1st.
Make sure you are on my mailing list for easy order links right to your in box.