So last year as a 50+ year old I went and sat on Santa's knee for a hairbrained idea I had for marketing. The older I get the more comfortable I am getting out of my comfort zone. Ok kinda. I picked a time with very low "santa demand" AKA no one was in line!!
Like many of you I have photos in boxes some from just last week, some from last year and some from many many years ago. You will see in my next post a scrapbook page with photos from Christmas 1991. Not only do I have photos in boxes but I have them on SD cards, on my computer, on back up drives. Can you relate?
And the photos are great but the longer they've sat in those boxes and files the longer it's been since the moment and while I have picture memory the who, what, where, when is fading. Their story needs a voice and I love how easy project life makes that whether it's a simply traditional layout like this or using the pocket style page protectors to simply drop those photos into.
I'd love to help you tell the story of the pictures in your boxes and files. Enjoy a mini escape in my comfortable studio, at a location of your choice or a virtual online event. Contact me so we can plan a time and event that meets your needs for memory preserving today.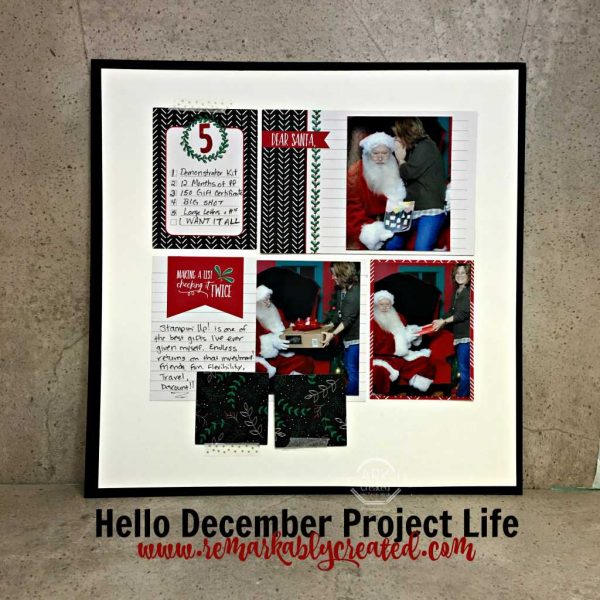 Stay tuned for another page, 23 cards, 5 gift bags, one daily december banner, and more from this amazing Hello December Project Life Kit.
So what did I whisper in Santa's ear and what are my TOP 5 Stampin' UP! Holiday gifts?
1. A no risk demonstrator kit with $125 in product for $99 and FREE shipping and a chance to never pay full price again
2. A 12 month subscription to paper pumpkin (hostess benefits and more)
3. A $150 Gift certificate  in your stocking or under your tree (Redeem during Sale-a-bration for 3 FREE exclusive sale-a-bration items and $15 hostess rewards)
4.  Big Shot – I mean how can you craft and create without one?
5. Big Letters & Numbers framelits – perfect for parties, school projects, posters. scrapbooking and more!
Contact me to chat about any of these gifts for yourself or someone else.Not only can I help make your memory keeping easier I can make your holiday gift giving easier. Just call me Santa's helper!
Remember that the Hello December is part of our OnLine Extravaganza that begins tomorrow November 21st.