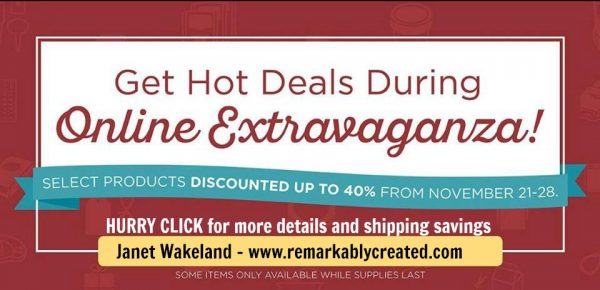 I am jumping up and down excited for you and for me. THere are things I can't wait to buy next week during the online extravaganza.
Some tips for you
1. Download the sale flyer – online-extravagana-product-list-us
2. Join my newlsetter for details of how to preorder sale items and avoid the minimum $6.95 shipping on multiple orders
3. Download this shopping list – janetsshoppinglist20116
4. Watch the video for how you can save an additional 20% on the sale items and then be eligible to shop the Spring Catalog at 20% beginning December 1st.
A nd if that option interest you contact me ASAP

More tips for you – My top 10 Items to Have in Your Craft Stash for use with Spring Catalog Product 
1. Enamel shapes – any and all will be perfect embellishements for what is in the spring catalog
2. Magnetic Platform – so many framelits coming if you DON"T have this you will WANT THIS
3. Large Number Framelits – how can you live without this staple and the Spring catalog is full of birthday product – the number set is perfect for use with them
4. Cupcake Cutout framelits – again great to use with the Birthday products coming
5. White gift boxes – every craft stash needs this – emergency gift giving at your fingertips
6. Blushing Bride Glimmer Paper – You will need this for the new Falling in Love Suite and for Valentines!!
7. Mini Tassels  – Graduation season will be here as fast as Christmas got here – why make your own tassels when these are premade AND on sale?
8. Mica Flakes – do you know how many cool shake cards you can make with the Spring 2017 products and Mica Flakes???Lots
9. Home Sweet Home Thinlits – oohh wait until we create some sweet spring houses 🙂
10. Cheerful Tags framelits – oohhh wait until you see all the beautiful ways to use these with spring product.
In additon you will want the Project Life Hello December Card & Accessory pack – purchase of this will give you access to my Virtual Classroom and a class using these to create 20+ card. 5 gift bags, an advent banner, 2 12×12 traditonal scrapbook pages, a cover for our 6×6 album and 2 6×8 project life pages.