We are half way through Sale-a-bration and I just realized there is important fine print in the SAB brochure I want to share with you especially given how hot Flowering Fields has been as a free choice during Sale-a-bration. I want to make sure that if you thought you missed out on the 3 limited edition products that ended February 15th you may (key may) still have time and that there is a chance any of the products could no longer be available.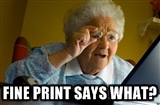 GOOD news – page 2 of the Sale-a-bration brochure middle of page under the box about limited release *Based on inventory availability may be temporarily extended.
VERY IMPORTANT – page 2 very bottom – Product availability may be limited towards the end of the promotional sales period.
SOOO..
a. the limited release products are temporarily extended
b. Don't take anything for granted as we head into the last 6 weeks as ANYthing in the brochure may become unavailable.
If you want it – get it… like this awesome stamp set Flowering Fields used to make today's project. I shared it once before but I want to include the video so you can see how easy and fun it is to take advantage of a common household item – bleach and transform a card.
I don't cook – my husband does (I do the cleaning) and it always makes me smile as I look around my craft room and spy a cookie sheet, aluminum foil, wax paper, tupperware containers, an iron, spoons, bleach and other household items being used in ways they weren't intended for.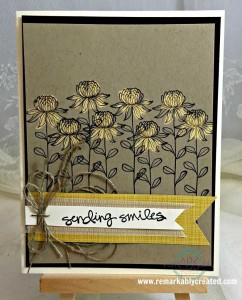 Grab your aquapainter and some full strength bleach (Preferably in a welll ventilated space)