Welcome back to a really fun blog hop as a few of the Stampin' UP! Hawaiian Grand Vacation Achievers share some great ideas featuring our pillow gifts.
As if the trip for two itself isn't enough another one of the perks of being a trip achiever is pillow gifts. Nightly goodies we find on our bed. They are highly addictive. From the cute tags and pretty wrap to the contents inside, Stampin'UP! leaves you feeling pampered and special.
For my project I chose to complete a Project Life page about the pillow gifts using tags from the gifts and photos so that I had another page completed of the trip.
My project life cards are from the Let's Getaway Project Life Kit.  Currently there are just a few days left to order retiring Project Life card kits at 50% off.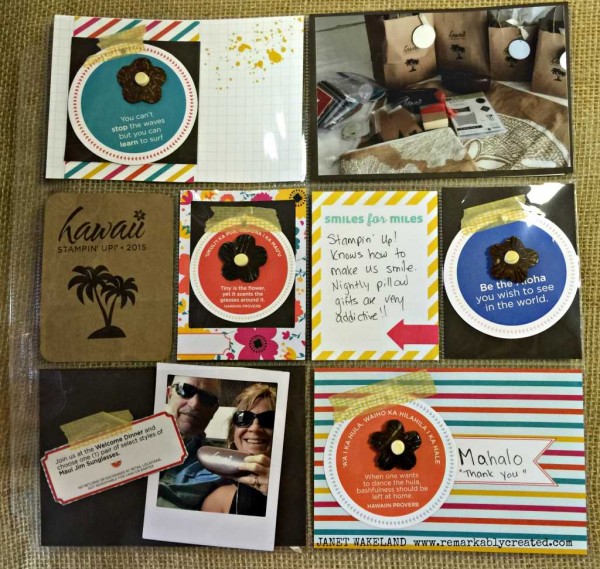 CLICK Next Blog button to visit Lousie Sharp, CLICK Previous Button if you are going in reverse order to get visit Genevieve Ko
Just in case here is a full list of participants.
1. Louise Sharp: http://www.louisesharp.com.au/2015/05/grand-vacation-hawaii-blog-hop.html
2. Sandi MacIver:http://stampingwithsandi.com/stampin-up-grand-vacation-achievers-hawaiian-blog-hop/
3. Kylie Bertucci: http://www.craftykylie.com/2015/05/stampin-up-grand-vacation-hawaii-blog.html
4. Selene Kempton: http://stampinfunwithselene.blogspot.com/2015/05/stampin-up-grand-vacation-achievers.html
5. Connie Stewart:  http://simplysimplestamping.com/stampin-up-grand-vacation-inspiration-blog-hop/
6. Dena Rekow: http://www.thecreativitycave.com/my_weblog/2015/05/another-fabulous-grand-vacation-blog-hop.html
7. Rose Marie Coleman: http://www.stampingwithrose.com/2015/05/hawaii-grand-vacation-blog-hop.html
8. Shannean Moncrief: http://stampingshanni.blogspot.com/2015/05/stampin-up-grand-vacation-achievers.html
9. Sharon Armstrong: http://txstampinsharon.blogspot.com/2015/05/hawaii-grand-vacation-blog-hop.html
10. Marelle Taylor: http://www.marelletaylor.com/2015/05/grand-vacation-pillow-gift-inspiration.html
11. Betty Button: http://bettysstampnstuff.blogspot.com/2015/05/hawaii-blog-hop.html
12. Connie Babbert: http://inkspiredtreasures.com/cards/grand-vacation-hawaii-pillow-gifts-blog-hop/
13. Ann Craig: http://anncraig.blogspot.com/2015/05/grand-vacation-hawaii-blog-hop.html
14. Kim Gavarra: http://www.stampwithkim.com.au/blog/grand-vacation-inspiration-blog-hop/
15. Renee Kohnke:http://watercitystamping.blogspot.com/2015/05/hawaiian-grand-vacation-blog-hop-pillow.html
16. BJ Peters;  http://www.stampinbj.com/2015/05/hawaii-grand-vacation-pillow-gift-inspiration-blog-hop.html
17. Alisa Tilsner: http://www.alisatilsner.com/blog/grand-vacation-hawaii-blog-hop/
18. Alison Solven:  http://www.stampcrazywithalison.ca/2015/05/hawaiian-blog-hop-pillow-gift-inspiration.html
19. Kelly Acheson:  http://astampabove.typepad.com/my-blog/2015/05/hawaiian-grand-vacation-blog-hop.html
20. Linda Higgins: http://lhiggins.blogspot.com/2015/05/its-another-blog-hop-inspired-by-pillow.html
21. Karina Chin : http://www.karinaskreations.com/2015/05/grand-vacation-hawaii-blog-hop.html
22. Jacque Williams: http://stamphappy.co.nz/2015/05/stampin-up-grand-vacation-hawaiian-achievers-blog-hop-pillow-gift-inspiration/
23. Lynsay Mahon: http://cloud9stampers.com/?p=430
24. Georgia Giguere:  http://www.stampingeorgia.com/2015/05/-fun-pop-up-platform-card-for-the-hawaii-grand-vacation-blog-hop.html
25. Laura Milligan:  http://www.lauramilligan.com/2015/05/hawaiian-grand-vacation-blog-hop.html
26. Vanessa Webb : http://vanessawebb.net/blog/hawaiian-incentive-trip-pillow-gift-inspiration-blog-hop/
27. Cynthia Millan:  http://stampwithcynthia.blogspot.com/2015/05/hawaiian-grand-vacation-blog-hop.html
28. Genevieve Ko: http://genstampin4fun.blogspot.com/2015/05/hawaii-incentive-trip-blog-hop.html
29. Janet Wakeland – http://wp.me/pHIQD-7hr