The new 1/4″ white organza ribbon in the 2018 Spring Catalog is so versatile.
It's beautiful on it's own but there are so many ways to alter it.
This month you can receive a FREE roll of the organza ribbon when you shop online or via email with me.
To inspire you I am kicking off the month with 5 ways you can alter the ribbon then will be showcasing a few more ideas during the month.
Remember you can also order this popular ribbon not just earn it for free.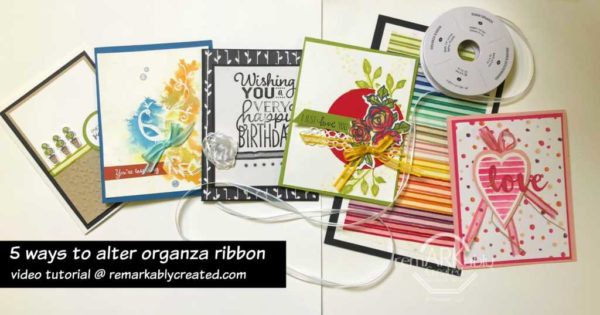 Look at how pretty the organza ribbon is with our Stampin' Blends
TWO ways to earn the organza ribbon for FREE (a $10 value)
SHOP ONLINE HERE and use HOST CODE BTNPU933 during check out
OR
Email me your order – janet@remarkablycreated.com
Check out 5 of the fun ways to alter the organza in the video below:
Click on any of these great ideas to add them to your shopping cart
BUT WAIT..
Before checking out remember
1. You could get $125 in product of your choice plus two FREE stamp sets for just $99 with free shipping when you join my team this month – then always save 20% on personal purchases, earn some extra income or even build a business – there is no obligation and what you do with the kit after joining is up to you. I am here to help you no matter your choice.
OR
2. You can select FREE sale-a-bration products with orders of $50, $100, $150 and more
OR
3. You can select FREE sale-a-bration products with purchases of $50 or more and EARN bonus host dollars on personal purchases or collected orders of $250 or more.
Sale-a-bration is in full swing – let me help you maximize your spending power today. Contact me for help with any of these great options.