Welcome to day #7 of our 14 days of Valentine love. Today we not only celebrate the half way point I celebrate my son's 27th birthday.
Our featured Valentine uses the sale-a-bration selection Beautiful Peacock!
But lets send out congratulations to Day #6 winner Beth Merkle first! Thanks for stopping by and dropping a comment yesterday.
Remember a daily winner through February 14th.
Simply comment on today's post for a chance to be todays (day #7) winner.
All winners are receive a full snail adhesive and snail leash (See details HERE)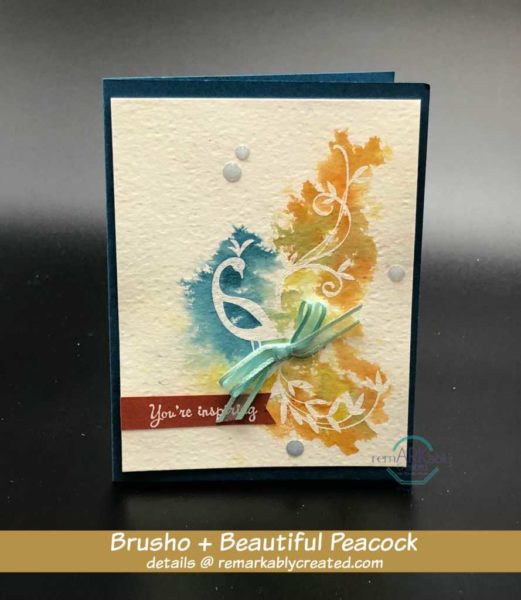 Who says that a valentine has to say "I love you" "Happy Valentine" or "Be Mine"? A valentine can be inspiring, wonderful, crazy, happy, smiley, joyful and any other number of sentiments we could think to add to a card!
For the card I embossed the peacock with white embossing powder , spritzed the bird first, added blue brusho, then spritzed the tail feathers with water adding the yellow and orange powder. I chose to use watercolor paper for the added texture it gives a card.
Here is a refresher on Brusho techniques and ways to use this magical crystal powder.
The card also sports a fun dyed piece of ribbon. My customers this month receive a roll of organza ribbon when they shop online or by email and I shared these 5 ways to alter organza ribbon to give them ideas for their gift.
All supplies are shown below and can ordered anytime just by clicking on them.
BUT WAIT..
Don't forget the 5 day FAST FUSE SPECIAL begins tomorrow- Buy one fast fuse adhesive catridge and get two refills free.
I've added them to the products below for easy odering.
And don't forget ….
1. You could get $125 in product of your choice plus two FREE stamp sets for just $99 with free shipping when you join my team this month – then always save 20% on personal purchases, earn some extra income or even build a business – there is no obligation and what you do with the kit after joining is up to you. I am here to help you no matter your choice. (And save 20% on the fast fuse buying it from youself!!)
OR
2. You can select FREE sale-a-bration products with orders of $50, $100, $150 and more
OR
3. You can select FREE sale-a-bration products with purchases of $50 or more and EARN bonus host dollars on personal purchases or collected orders of $250 or more.
Sale-a-bration is in full swing – let me help you maximize your spending power today. Contact me for help with any of these great options.