Yes it's possible to use Brusho on designer papers. While it may not spread or have the exact same look as watercolor paper or thick cardstock it still packs a vibrant color punch and gives you an alternative use both for brusho and beautiful designer papers.
Check out some ideas for altering the beautiful black and white Petal Passion designer papers from the Stampin' UP! 2018 spring catalog.
Here are a few ideas seen in the video
For this card – green was painted around the leaves and dry powder was placed on the card then spritzed.
Dimensions for project
Whisper white 11″ x 4.25″
Crushed Curry 4″ x 5.5″
Garden Green 3.75″ x 5.25″
Designer Paper 3.5″ x 5″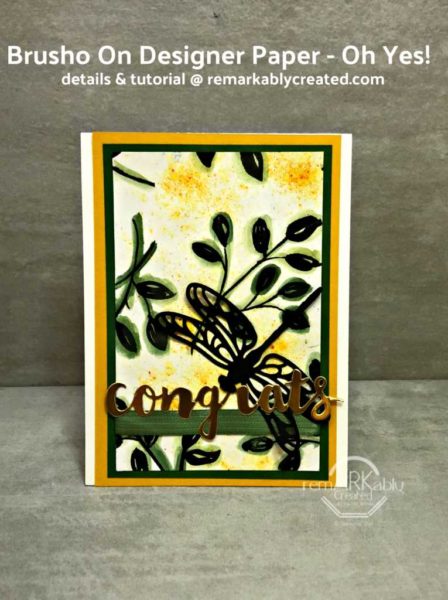 For this card powder was sprinkled randomly and spritzed.
Cardstock dimensions
Whisper White 11″ x 5.5″
Basic Black 4″ x 5.25″
Designer Paper 3.75″ x 5″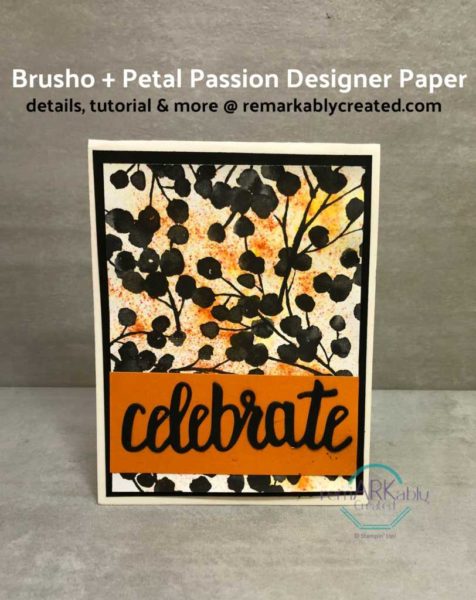 For this project brush was painted on around the flowers.
Cardstock dimensions
Whisper white 11″ x 5.5″
Crushed curry 5.25″ x 4″
Designer Paper 5″ x 3.75″
Basic Black 1″ x 5″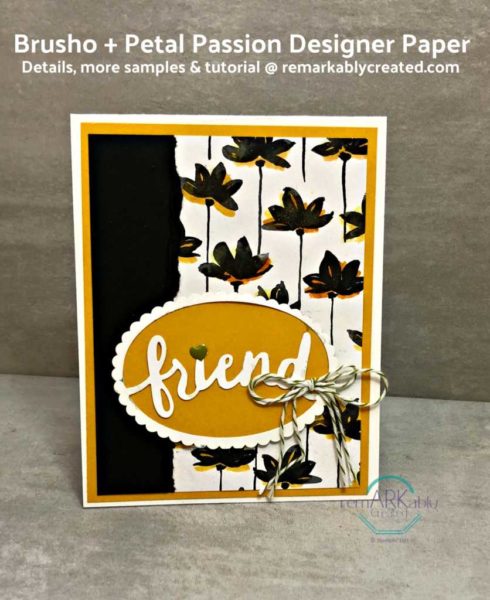 For this project card was spritzed with water than blue brusho applied to wet areas
Cardstock dimensions
Pacific Point 8.5″ x 5.5″
Basic Black 5.25″ x 4″
Designer paper 5″ x 3.75″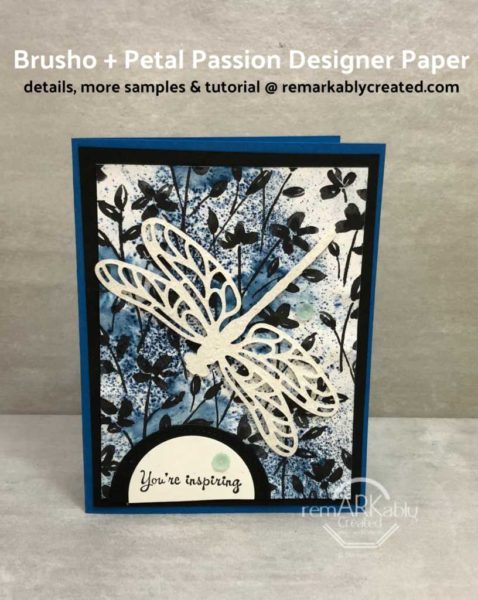 A few of the basic supplies used. Don't forget it's Sale-a-bration and there are 3 great ways to enjoy free product. See the options below.
Happy Sale-a-bration 3 ways to enjoy Sale-a-bration.
GREAT WAY
Free Gifts with purchases of $50 or more – shop ONLINE or by EMAIL
PLUS my monthly Customer appreciation gift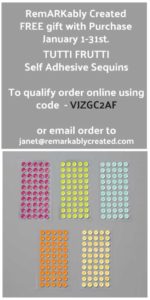 HOST CODE online VJZGC2AF OR email me
GREATER WAY
Free Gifts with purchases of $50 or more AND additonal host rewards – contact me to host a personal order, live class/event, or virtual event
GREATEST WAY
$125 product for just $99
PLUS two FREE bonus stamps (value up to $101)
FREE shipping
Opportuninuty to earn FREE products as a demonstrator Jan 3 – Mar 31
Enjoy Demonstrator, Customer & Host perks while paying 20% but receiving FULL value towards those perk
Personal purchases count towards minimums ($300 Jan 3-July 31st is all that is required).
My RemARkable Start program
My Training & Support
No Obligations if you don't want more than the kit
Discounted product shares and events as part of my team support
Contact me to join my team of RemARKables today!!! Or simply jump right in HERE.
The sooner you join the more opportunity to earn FREE products and maximize Sale-a-bration!