It's that time of year when demonstrators everywhere are driven to last minute holiday preparation because they are distracted by shiny beautiful new Spring Catalog products.
Join us as we share a sneak peek at some of the fun debuting January 3rd, 2018!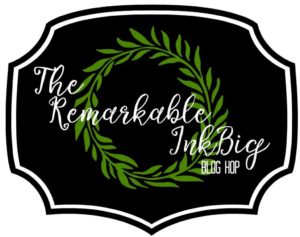 Not only does our new Stampin' UP! spring catalog debut on January 3rd but January 3rd is also the launch of Stampin' UP!'s biggest sales event of the year. There are 4 great components to this special
1. FREE gifts with purchases of $50 or more and new this year two level 2 offerings for purchases of $100 or more. Of course you not limited and can choose to spend $150, $200, $250, $500 -you get the idea and can select FREE Sale-a-bration gifts for every $50 or $100 (But seriously if you are spending more than $99 you need to keep reading).
2. Extra Host Rewards – when you host a personal order of $250 or more, or any event where you gather orders from friends there are additional host rewards during Sale-a-bration.
3. Join Stampin' UP! – those who decide to take the plunge and spoil themselves with the ultimate bundle of Stampin' UP! products can choose 2 stamp sets ANY PRICE which could easily be an additional $101 value. SO for $99 with FREE shipping YOU COULD decide beginning January 3rd to
a. Select $125 in product of your choice
b. Select TWO bonus Stamps
c. To enjoy an ongoing savings of a minimum of $20%
d. Take up to 7 months to mee the sales minimum of $300 with all personal purchases, family and friends purchases from January 3rd – July 31st (at full retails) counting
e. And more… trust me there is so much more… to include NO OBLIGATION – seriously. But with all the "and more" you'll want to stick around.
4. Demonstrators enjoy earning FREE Flex rewards points and Free product during Sale-a-bration – so you if you join you can as well!!! (that's part of the "and more").
I can't wait to help you enjoy the Spring Catalog, Sale-a-bration and Stampin' Up!.
Too entice you I have some great cards featuring 3 different Sale-a-bration products.
This first project I am featuring in my FB Live Stamp with me Sunday tonight at 9pm EST. Come join me as I introduce you to Stampin' UP!'s patent pending new "distINKtive" stamp style.
This stamp set Heartfelt Blooms is one of the free options with a $50 purchase and the Celebrate you thinlits are one of new Level 2 choices.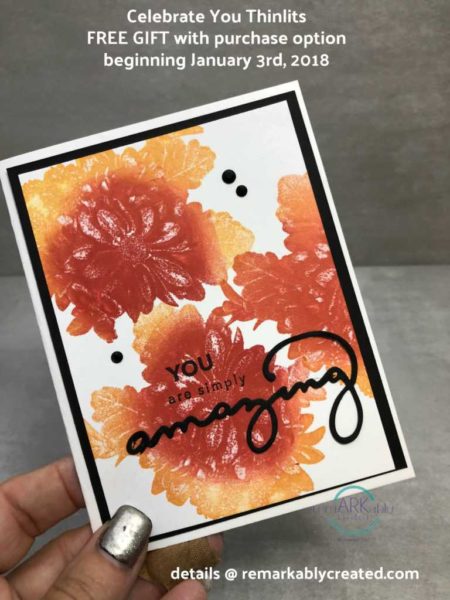 Here you can see the full Celebrate You Thinlits – the 3 piece set includes the words Celebrate, Amazing and You.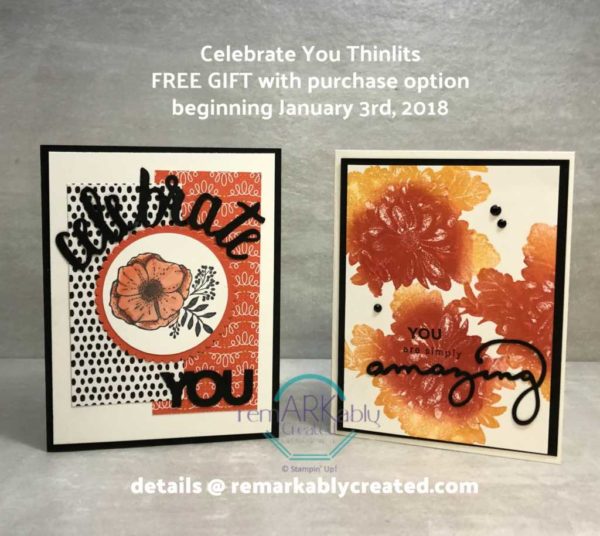 And this sweet card colored with our Calypso Coral Stampin' Blends features the coordinating stamp set to the framelits – Amazing You.
This stamp set will be available as a FREE option with any $50 purchase.
Don't forget to Request your catalogs today if you do not have a demonstrator your work with and to mark your calendars for January 3rd.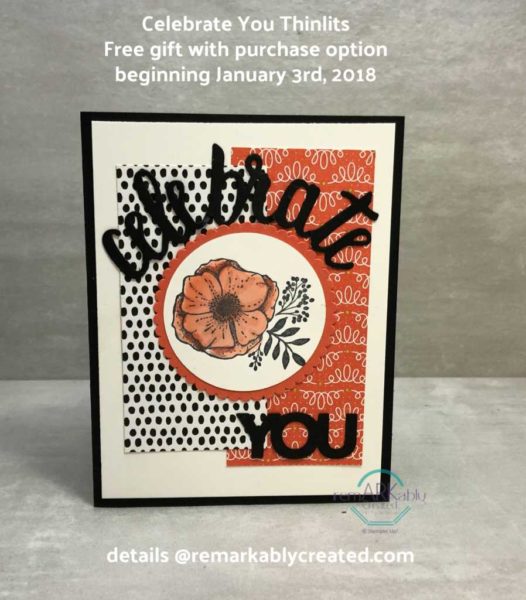 Now head over to visit these amazing blogs and demonstrators for even more enticement as you go.
Here is a handy – shopping list to keep track of all the new products you need! (Santa's knows you've worked hard to make the holidays nice for everyone and will need a little spoiling after they are over).
*janetshoppinglist