Give Thanks – it is always good to be thankful and while not a single card here says "thank you" or any form of thanks on it, it is designed to be a gift.
A gift from a grateful heart.
A gift formed from grateful memories.
When I was a little girl our standard gift to my grandmother was a box of assorted cards from Current and a book of stamps.
My grandmother loved to send cards, she loved to send cartoon clippings, she loved to send news articles.
Sadly she died long before I discovered Stampin' Up! or I know this would have been the perfect gift for her and she would have treasured a hand stamped card.
There are so many reasons to send a card and so many reasons to be thankful for the products used to create those handstamped cards.
For me creating is not about the wow, or being an artist (although the artwork can make me feel like one), it's about the feeling, the emotion, the reason I am creating.
I am so thankful that 21 years ago I found a company that allows me to create from the heart, a company that has allowed me to develop a full time career out of inks, paper and stamps. A company that has many definitions of "creative" and all levels of creativity can find success and goals met.
This project features four cards from our recent Craft Retreat. Each one was designed by one of our Retreat team (Missy Bolinger, Deb Lehigh, Linda Nagle and myself) – any guesses which one is mine?
Theses were colored using blender pens and ink pads but beginning November 1st you can duplicate these cards using Stampin' Blends.
Our acetate card boxes hold 4-8 cards and envelopes depending on the amount of layering and embellishments. A perfect gift to give this holiday season.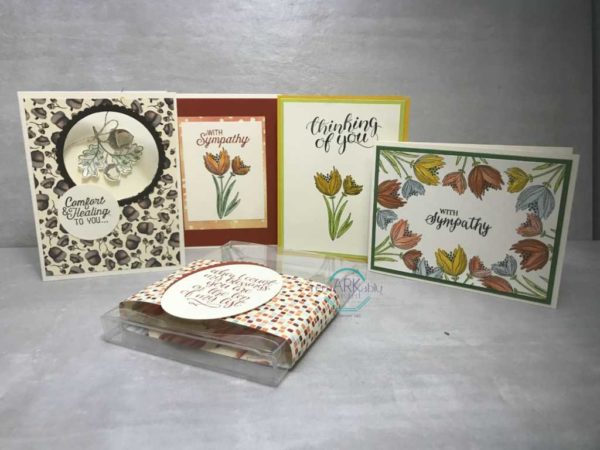 For more inspiration hop along now to see all the great ideas from these fellow demonstrators.
For all those shopping during October (and you can do so any time by clicking on any of the images seen or clicking here for my full ONLINE store) you will receive a free gift of Black Rhinestones.
Happy Shopping.