October 1st began a new year for Stampin' UP! and I am more excited and inspired that ever.
Yes even after 21 years as as a demonstrators it's possible to still be on fire and have big goals.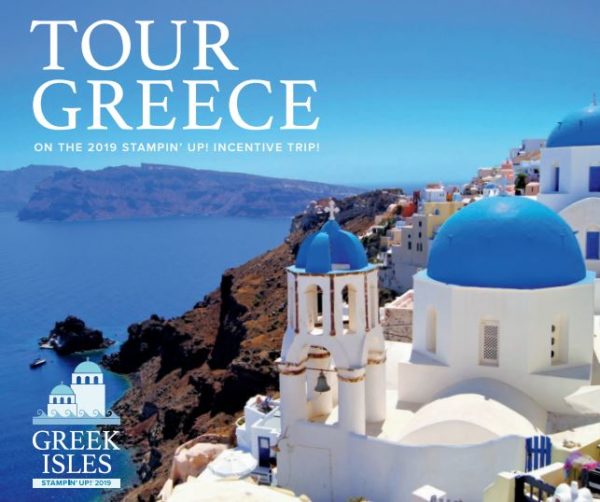 This year my pursuit is the Greek Isles incentive trip.
Greece has been on my TO VISIT list for a very long time and I am excited to be able to make that trip for two a goal this year.
Are you a demonstrator??? Come join me and fellow demonstrators from all over the globe in our Earning the Greek Isles class which is also a Business building class.
So that even if the trip is not a goal but stepping up your business is, this class is for you.
The class is just $49.98 and is year long!
The class actually began in August as we looked at how to finish the past year strong and set yourself up for a great start on October 1st.
And GUESS WHAT – all the great tips, videos, graphics, comments, notes, etc are available anytime you join.
Class is taught on Facebook in a closed group allowing you to access the group from all kinds of devices (PC, MAC, Ipad, netbook, phone, etc) and of course on your time zone.
Come join a group of motivated, excited demonstrators and take your business to the next level this year.
Register HERE
The incentive trip is possible for everyone as Stampin' UP! gives us a full year and many ways to earn the flex points.
Not a demonstrator?
It is possible to earn the trip your first year.
Join my team today, all my trainings are free and our team has lots of other extra perks for team members.