*THIS CLASS has been updated to prepare for the Maui Incenive trip while Building a business.
Please the details updated class and registration information HERE
Earning the Greek Isles while building a business.
I love that one of the options I have as a demonstrator is the opportunity to work towards earning a trip. Stampin' UP! fuels my love of travel and I can't tell you how hopping up and down happy I am that in July 2019 I will be enjoying my 22nd incentive trip with Stampin' UP! in a place that has been on my LIVE list for a very long time!
Are you a demonstrator??? Come join me in the RemARKably Created Training Center as we get a jump start on getting ready to hit the ground running on October 1st when the earning period begins!!!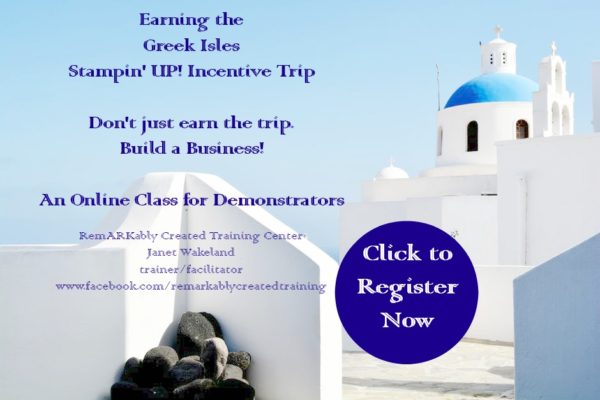 Using my 21 years experience and 21 trip earned record My passion is not just in helping you earn the trip but in building a business where the trip becomes a perk of that business not just a yearly year long goal that literally requires a mental & business building restart every year.
As an active demonstrator I am still building my own business, actively selling, sponsoring, training, learning and adapting to our changing marketplace which means I am speaking from current experiences as well.
Access to this class will be through September 30th, 2018
New Timely tips, ideas, graphics will be added throughout the year to keep you focused excited, on track, get you back on track and a few facebook live events to keep us inspired!
This class is not an accountability group and will not be providing specific training on things that are available in other classes. We will discuss accountability and help you find a partner if that is something you are needing.
The class is priced so that you can still invest in your business in products, On Stage, and additional themed based classes that meet your needs instead of having you pay for materials you don't.
You will find a great break down of points & how to earn them, samples of "plans/scenarios" based on where you might be now with title/sales, sales tip, monthly things to focus on, review of your current business so you know where to put your time and energy moving forward, and so much more.
The earning period begins October 1 and you will want to hit the ground running. Get started now so you will be ready to run!
Classes are hosted on facebook making them accessible – GLOBALLY, From any device and on your time.