So I decided to double dip tonight – resuming Detailed Gate week with gate project #4 (so remember to comment) and pairing it with the Pick A Pumpkin Bundle for our featured 2017 Stampin' UP! Holiday catalog product tonight.
The ideas all week during our Holiday catalog product spotlight have been over the top so I can't wait to see what everyone has created for our final day.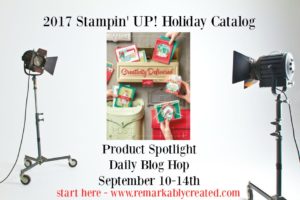 This card I created for the hop tonight could welcome someone to the neighborhood, your small group, your team, or even to where you work.
There is a lot going on with this card and while I don't usually get this "busy" I had so much fun going over the top.
If you haven't used embossing paste before what are you waiting for?? The possibilities are endless. Here is a video I did previously for those who haven't seen it, don't know what embossing paste is, or have it and are looking for additional ideas.
For the project I tinted a small bit of embossing paste with smoky slate reinker, die cut the detailed gate with basic black cardstock, then stamped the pumpkins with a variety of our "oranges" – pumpkin pie, cajun craze, tangerine tango and the gourds with crushed curry. The extra color on the pumpkins is achieved by dabbing on some contrasting color after the image is inked up.
Tip for the sign – I threaded the linen thread through a needle and simply pushed the needle through the designer paper so I would have big holes on the sign.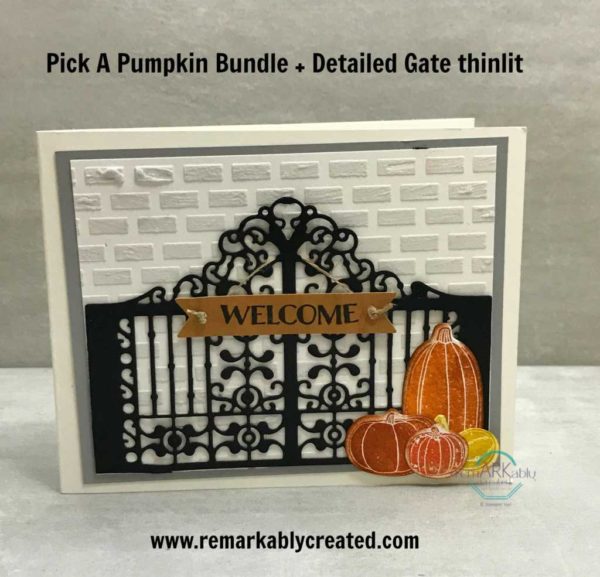 Now let's get inspired with more Pick A Pumpkin Projects.
Head over to see what Joanne has created for you – click HERE
Or if coming from Joanne's blog head over to see what Missy has done with the bundle – click HERE
Thanks for visiting and don't forget
1. If you do not have a demonstrator you work with request your complimentary Holiday and/or Annual Stampin' Up! catalog today
2. You can shop online any time for any of the products by clicking HERE or clicking on any of the images below. 25% of my sales in September is being donated to local charities supporting hurrican Harvey & Irma victim.
3. Anytime your order is close to $99 or over – consider the best deal going – $125 in product for just $99 with FREE SHIPPING & a future minimum 20% savings on purchases