Paper Pumpkin if you are not familiar with it, is Stampin' UP!'s monthly craft kit. A box of happy creativity in your mail box each month.
You have the choice of month to month subscriptions that you control from your computer, skipping a month, adding extra kits one month or simply unsubscribing.
Or you can select the no fuss 3,6 and 12 month subscriptions.
For those who are thinking of joining Stampin' UP! as demonstrator we save 20-25% on our personal subscription and paper pumpkin kits are commissionable as part of our sales.
I personally subscribe to several kits each month so that I have the choice to assemble all the way they were intended to be or I have the supplies need to go "off road" using the product supplies in the kit to inspire me to do something different.
March's kit is supposed to be these adorable bunny bags and I will make these for the little ones at our annual family Easter gathering BUT…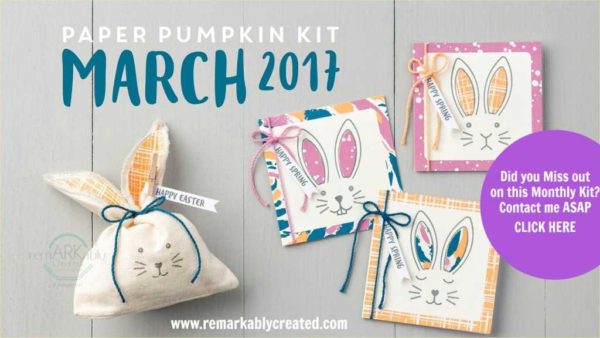 When I first opened the kit and saw the bunny bags what I saw was a purse. I was inspired to create these sweet "catalog" bags for friends attending Amsterdam's On Stage later this week. I filled the bag with post it's, a pen, chocolate..perfect for viewing the new catalog.
To add the ribbon on the front of the bag I chose to use hot glue but you could choose to use stitch fix or sew them on and for the handle I pulled out the crop a dile to add holes and simply tied the shoulder strap on.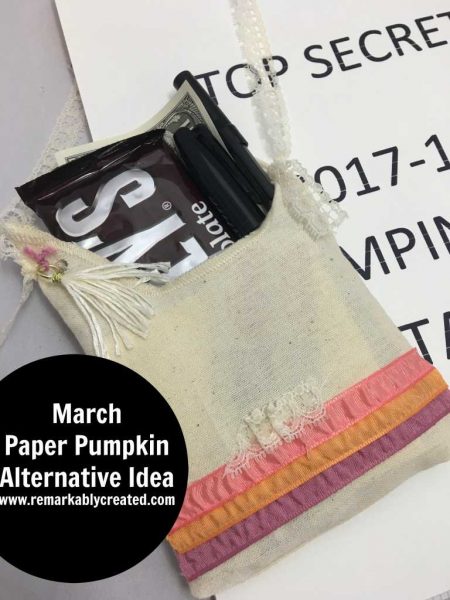 For our April Kit – Stampin' UP! CEO Sara Douglass got into the act creativing a sassy kit- A Sara thing, that includes a FREE gift as well as a sneak peek at one of the 2017-19 new incolors.
TO subscribe today – click HERE
Paper Pumpkin Subscribers have access to past kits and refills for kits while supplies last.
Each month is a surprise and kits vary from crafts, to cards and beyond.
In ADDITION FROM ME
1. My subscribers enjoy free access to my virtual classroom and all classes there
2. My subscribers receive a 15% discount on my suggested "tools to enhance your PP experience" (current subscribers check your inbox )
3. My subscribers enjoy my satisfaction guarantee – don't like a kit- mail it to me to receive catalog credit through me.