I know you have seen these Eastern Gold VInyl Stickers on pinterest, facebook, blogs, on my facebook live and even right here.
Have you wished just once they were also in silver?
Well here is a simple tip for to get a silver look from your stickers, the video will show you how along with 2 other great "sticker" projects.
I am so excited I get to order more of them on May 2nd. I need them.
Card #1 – Let's Be Friends
Bermuda Bay Cardstock 11″ x 5.5″
Lemon Lime Twist 4″ x 5.25″
Window Acetate 4″ x 5.25″
Scraps for flower center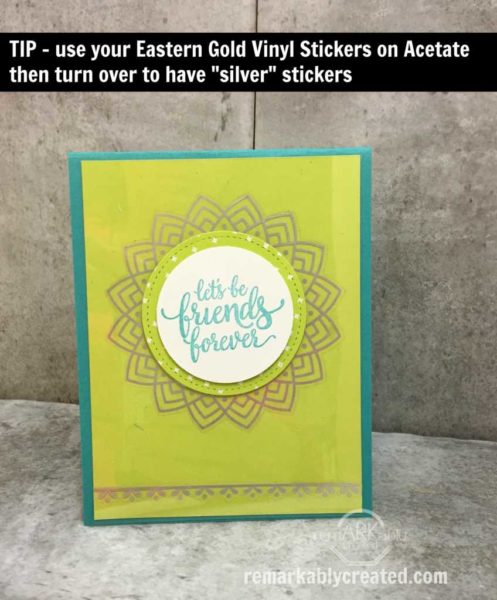 Card #1
Very Vanilla 8.5″ x 5.5″
Gold Foil 4″ x 5.25
Very Vanilla 3.75 x 5″
Scraps of vanilla and gold foil to die cut/circle punch for greeting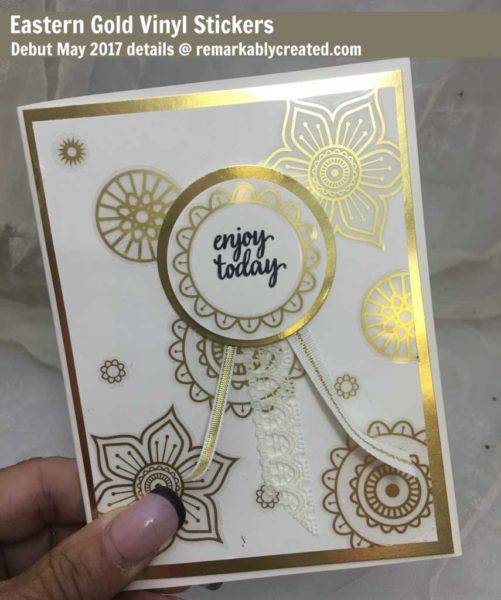 Card #3
Early Espresso Cardstock 11″ x 5.5″
Wood Textures Designer Paper 5.25″ x 4″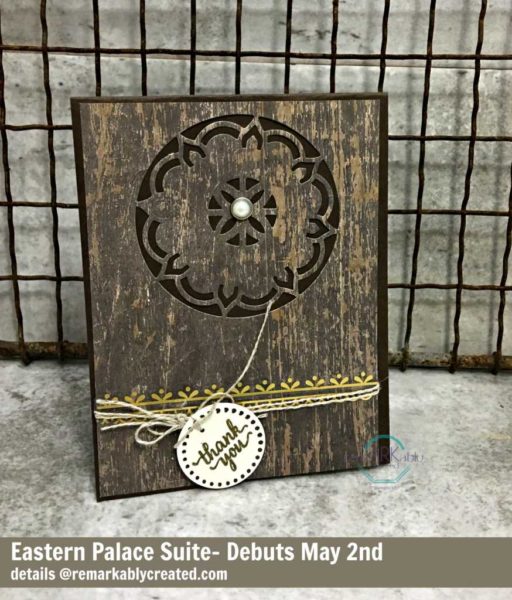 Eastern Palace Bundles – two exclusive bundles to pick from. Each with a FREE gift and three ways to get them
GOOD WAY – simply purchase either of the bundles in my ONLINE store – use this code ( Z67UM7EV ) for bonus GOODIES from me
BETTER WAY – gather your friends to order bundlers – 3 friends order the small bundle you've earned $15 shopping dollars, two friends orders the large bundle and you've earned $20 shopping , dollars ($10 for each of you if you're a good friend!) of course you can gather more friends and orders than that earning even more FREE host dollars
ALL WHO purchase either bundle will receive 20 Exclusive Tutorials and access to my VIP customer classroom.
BEST WAY – Select either bundle AND additional new catalog product available beginning May 2nd exclusively to demonstrator.
1. You can select $125 in product for just $99
2 You get the FREE product associated with the bundle if that's what you choose in your kit
3. You get a FREE paper pumpkin kit to check out the program
4. You get FREE shipping on that kit
5. You get to enjoy 20% savings on future personal purchases (including more preorder products during May)
(and 20% income on friends purchases)
6. You get to enjoy both customer and demonstrator perks and personal purchases count towards any sales requirements should you decide to stay active
7. You get no risk, no obligation – unless you decide you like the perks than SU asks you to do $300 per quarter – your first quarter being July-Sept with any sales not including the kit from May and June being counted as sales for that first quarter
8. You get to enjoy my customer perks (newsletter, VIP classroom, monthly tutorials) AND our awesome online team community.monthly virtual parties and live local events if you are close.
9. You get new catalogs in your kit (8 current ones and 8 new 2017-18 catalogs NO WAItING on me to send them!!!)
10. You get me as your upline support with my 21 years experience and love of what I do!