Happy Last day of your chance to earn a free set of these amazing versatile framelits- Cheerful Tag Framelits.
Congratulations to our latest winner – Betty Borman!
Keep reading for today's project featuring these tags and how you can win the last set. Winner will be posted in tomorrow's blog post.

For our last project I decided to get another scrapbook page done from my bottomless box of old photos needing homes.
For my page I combined a sneak peek of the new Eastern Palace Designer papers with the cheerful tags and the Urban District stamp set that is RETRIRING & ON SALE!
Double bonus.
Scrapbook TIP – not all photos need to be in chronological order. I find it very freeing to capture "themes". Here is an assortment of photos from various years of my dad with my kids.
Cheerful Tags Tip – In place or ribbon, cut DSP to thread through the openings on the tag.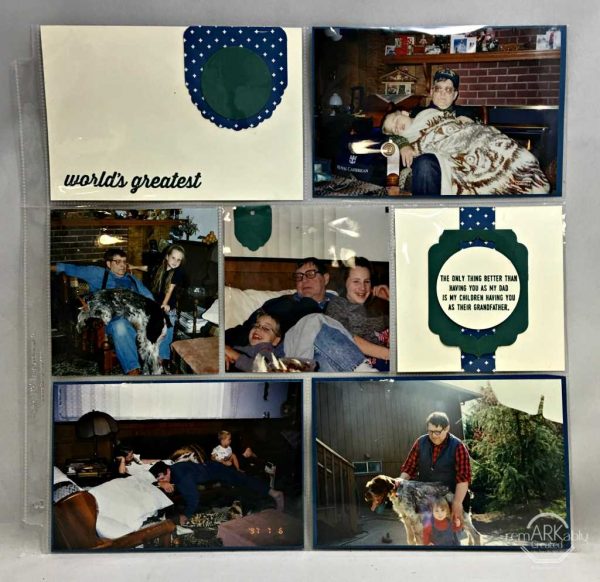 TODAY IS THE LAST DAY TO WIN A SET OF the framelits- winner announced tomorrow…
Now of course they are 50% off and you can have a sure bet by just ORDERING THEM …
But you can also try to win them by
NEW WAY today – Answer in Comments Below – Do you scrapbook? Traditional? Project Life? ANything Goes? I wish?
OR any of these ways if you haven't already:
a. Pinning either of these two images below to a board and sharing the link in a comment
OR
b. Referring a friend to my blog who comments with your name
OR
C. Heading over to LIKE my facebook page if you have never done so then commenting below that you did!
or
D. Subscribing to my Mailing List
or
E. Following any of my boards on Pinterest
or
F. Following my on You Tube
Yes you may enter more than once.
Good Luck!