Are you a Stampin' UP demonstrator?
Are you looking for a little extra business support but don't want to be billed monthly for something you may or may not use monthly??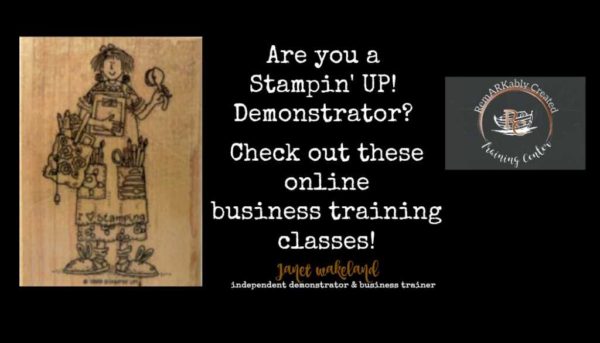 Then my one month timely topic classes are perfect for you.
Each month I present a timely relevant topic for our businesses as Stampin' UP! demonstrators
Classes are:
1. Available for one month to view
2. Available globally
3. Housed in a private facebook group for easy networking, Q&A
4. Taught using videos, graphics, posts
5. Include me and my almost 21 years experience of being a demonstrator who is still actively engaged in busines building
6. Affordable
7. A great place to network
8. Available to view from multiple devices since it's house in facebook (ipads, phones, macs, pcs, etc)
9. A tax deductible business expense
10. Based on my actual personal experience past & present
CURRENT CLASSES – available February 16th- March 14th
FACEBOOK FOR STAMPIN' UP! DEMONSTRATOR
YOU TUBE VIDEOS FOR STAMPIN' UP! DEMONSTRATORS
EARNING ALASKA WHILE BUILDING A BUSINESS
**all 3 classes available for one price for one month in the closed private training center facebook group.
– $20 includes all 3 classes above, me, networking with fellow class members, opportunity to participate in our monthly tutorial coop, invitation to join our pinterest board with almost 5400 followers.
*A formal welcome email with links are sent to all who register.
*class & training center is free for members of my team as part of my upline support
Facebook Class – page set up. facebook engagement, post ideas, facebook ads, mock facebook party, mock facebook team training event, facebook groups, facebook analytics, facebook live, facebook page marketing – all things facebook
*I will begin posting information February 16th (no set time – since it's not a LIVE event ) and will continue to post class training for one week – after that I check the classroom daily answer questions, offering suggestions, giving clarifications and adding any other timely & relevent info related to the topic through the rest of the month the class is available.
You Tube Class – our most popular class – equipment, filming, basic editing, you tube channels, you tube marketing – all things you tube
*Class if fully loaded with hours and hours of training avaiable to begin viewing 6pm PST February 16th.