I am so honored to have been asked by Rick Adkins and members of this blog hop to be an honoree blog hopper.
As a demonstrator no skills are required, including the ability to stamp. SERIOUSLY!
I joined Stampin' UP! because I saw a business opportunity first and I like to craft. Stamping was never my strength as a
demonstrator. I was never asked to "teach" stamping or present stamping demonstrations at Stampin' Up! meetings and events
just business presentation.
I'll never forget about 10 years into the business showing my hubby a card and his response "you are really getting good"! . Yeah honey, it only took 10 years.
Just as you learn the business side as you go, so do you learn the stamping side of being a demonstrator.
To be asked to be a guest artist as part of a blog hop is a BIG deal and I am honored but talk about palm sweaty angst!
For my post I chose to use the Detailed Dragon Bundle which I expect to be the #1 bundle in the Spring 2017 catalog , combining it with the Oh So Succulent Designer
paper and Advant Garde Sale-a-bration stamp set. Then coloring with the new watercolor pencils.
Die Cutting the dragonfly from designer paper opens up a whole new world of creative options.
Enjoy and make sure you  have a copy of the 2017 Stampin' Up! catalog which debuts January 4th. Why not start the year off spoiling yourself with new products to hone your creative skills with!!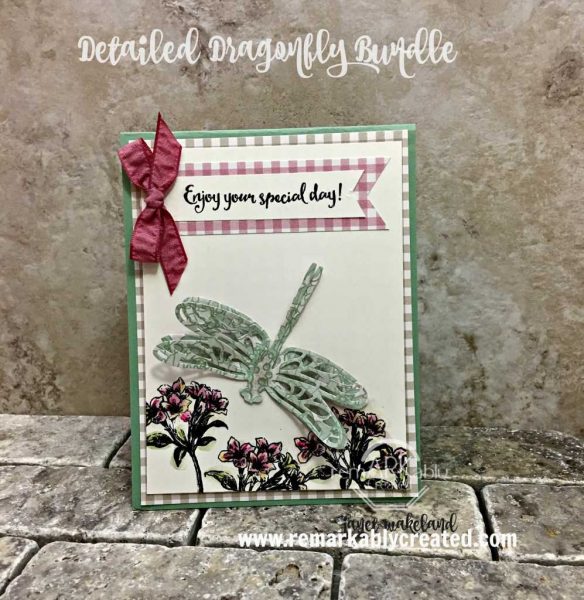 Now head on over to See What Crystal has stamped up to continue with your New Year's inspiration!!!

\
Rick Adkins https://rckinsmonstudio.wordpress.com/2017/01/01/blogging-friends-january-blog-hop-occasions-catalog
Janet Wakeland YOU ARE HERE