In coordination with fellow demonstrators we are using our creative talents to draw attention to and increase awareness of Autism during this National Autism month.
While I am not personally touch I have seen the challenges, difficulties, struggles and joys of friends and aquaintenances who deal daily with a life touched by Autism.
With Autism being the third most common developmental disorder being diagnosed today, it critically important for us to become more aware of Autism in general, and how we can be supportive to friends, and family members dealing with diagnose everyday.
I hope that you enjoy the projects that myself and fellow demonstrators are sharing today.As a group we have set a goal to raise $5000 for this cause. If you are interested in helping please consider donating any amount to the Autism Awareness Foundation.
This is the second year we have worked to support this foundation and I would love to give a shout out to Lee Conrey who has been a great encouragement in our efforts to become more aware, and raise money for this cause. You can visit the donation page HERE.
As an empty nester I decided to fill my home with two fur babies and chose to continue my quest to get caught up with photos in my scrapbooking cupboard while also tackling another challenge I give myself each month and that is to use one of the monthly Paper Pumpkin subscription kits I receive each month to create either a traditional scrapbook page or a project life scrapbook page.
This layout of Teague who is now 4 as a puppy was created uses April's paper pumpkin kit.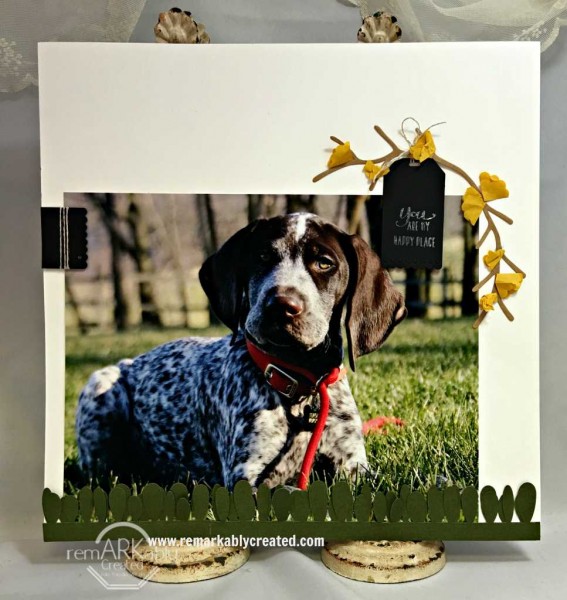 Take time to visit all 8 of us for some inspiring memory keeping ideas.
1. Janet Wakeland
2. Katina Martinez
3. Kylie Bertucci 
4. Wendy Cranford
5. Candy Rattray 
6. Selene Kempton 
7. Patty Chanail 
8. Michelle Irinyl