Join with my international Stampin' UP! friends to bring you some great ideas featuring a new Project Life by Stampin' Up! card collection  -Moments like this. For my layout I decided to use some of our awesome new accessories and some of the elements from the card collection that had gold in them. So many times we reserve sparkles and metallics for special occasions but more and more I am learning just how special the ordinary is, how important it is to remember and celebrate the everyday. Everyday is a chance to shine and sparkle so capture – just like the "find chine and crystal" we tend to only pull out on special occasions I know use those as well on a daily basis so why not shiny things on my everyday scrapbook page??
My boys and I spend a lot of time in the yard together as they could easily clear the 5.5 foot fence if they made up their minds to. There is lots of enticement around our house, cows, horses, birds, squirrels, cats, wild turkeys, free roaming chickens, bunnies and more. So I sit with them enjoying the downtime it brings to my otherwise crazy pace.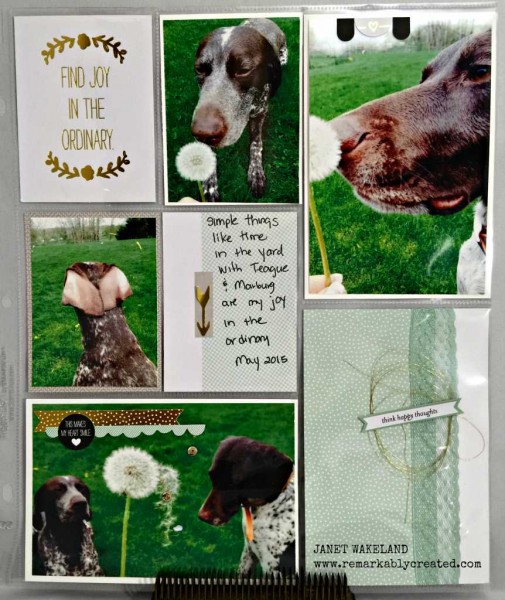 Project Life Card Collections by Stampin' UP! not only have coordinating accessory packs but also coordinate with other great products and colors in the Stampin' UP! Product line. On this page I used our new
MINT MACARON lace and Gold Thread – the coordinating colors for this card collection which you can find in inks ,papers, ribbons and more are  – Basic Black, Mint Macaron, Tip Top Taupe, Watermelon Wonder, white & Gold!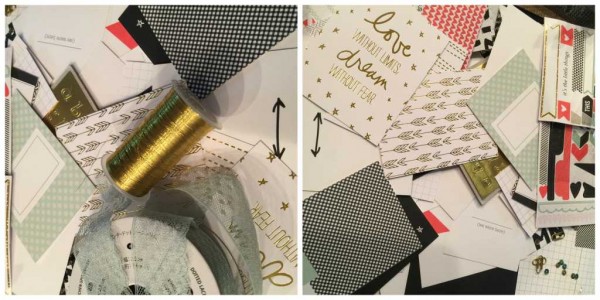 Take to visit this amazingly talented demonstrators showcasing more Project Life Moments Like this
Claire Daly, Australia – http://www.clairedaly.typepad.com
Julie Kettlewell, UK – http://www.juliesjapes.blogspot.com
Delys Cram, New Zealand – http://delysc.wordpress.com
Constanze Wirtz, Germany –http://conibaer.blogspot.com
Janet Morrow Wakeland, USA -Use are here! 
Elizabeth Richards Peterson, USA –http://www.lenfantcheri.com
Kate Denyer, UK –http://katemakescards.blogspot.co.uk