There are 16 new packs of designer papers in the 2022 Stampin' UP! Fall Holiday Catalog and 1 pack of exclusive Host papers
And they are amazing!
Order your sampling of ALL the new Stampin' UP! Holiday, Fall Designer paper and specialty papers today and receive all these papers shown.
You would have to spend over $350 to qualify to select all these papers as a Sale-a-bration & Host gift. Get a sampling of them for free today. ALL SHOWN.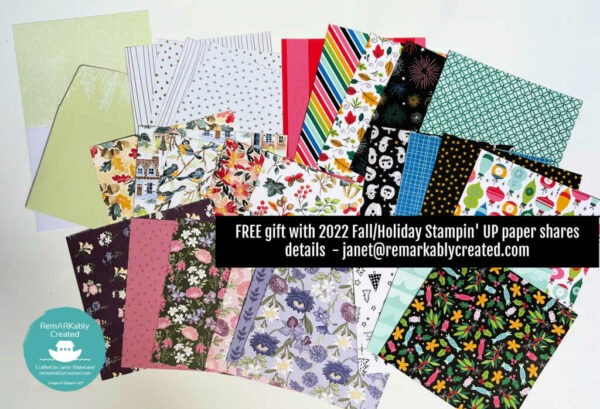 Check out all the pretty papers in this video than scroll below to see how you can get new papers & pretties in my share as well as a sample of ALL the EXCLUSIVE HOST and SAB papers for FREE (Easier than spending $350+ To get them).
4 shares to pick from based on your budget and crafting needs. See below.
Details
1.Contact me janet@remarkablycreated.com to order
2. Payment is with Paypal, cashiers check or money order
3. Only US orders
4. Shipping Weekly based on orders received
5. If YOU ordered the 2022 Annual Paper Share your price is discounted $5
6. If YOU make yours a DOUBLE your price is discounted $5
7. Purchasing a share entitles you to discounts on "refills" and future ordes of my shares.
8. EMAIL me today with
a. Which Share you would like
b. The email to use for a paypal invoice
COST
*Order Double of anyone and save $5
*2022 Annual catalog share purchasers save $5 on price below
Designer Paper Share
Includes 88 6″ x 6″ sheets of Designer Papers & Specialty Papers PLUS 2 Memories & More Note cards & envlopes, Treat Bag, Treat Box AND 28 FREE Sale-A-bration and Host designer papers.
$43.15 (Includes tax and shipping).
Exclusive Cardstock ADD ON
Includes Designer Paper Share + 30 8.5 x 11 Sheets of Coordinating Color Cardstock (list provided on request).
DSP + CARDstock – $63.20 (Includes tax and shipping).
Designer Paper Share + Pretties (ribbon/embellishements)
$70.10 (Includes tax and shipping).

Designer Paper Share + Pretties + Cardstock
$93.15 (Includes tax and shipping).