Am I the only one who is inspired to sing (even if I can't carry a tune to save my soul) when using some stamps and products?
"I'm a little teapot, short and stout.."
The new LACE Dynamic folder is the perfect partner for our teapot. While I prefer coffee I do sure love going to Tea.
The Tea Together stamp set is available in our 2019 Stampin' UP! spring catalog and you can earn the coordinate framelits for FREE with a $100 qualifying order!
Consider ordering the stamp set, the lace folder and the Well Written bundle and you'll have a qualifying order and an amazing versatile set of greetings and framelits for your teapot!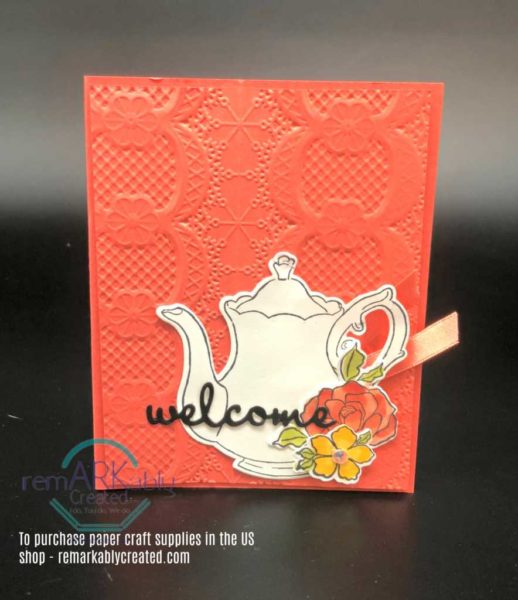 Shop for new products TWO ways
1. As my best customer (order online anytime or email your orders if you prefer help entering your order).
OR
2. As your best customer saving 20% on personal Purchases
January 3-March 31st
1. Select a Level 1 Sale-a-bration product for ever $50 in purchases (before tax/shipping) Select a Level II Sale-a-bration product for every $100 in purchases (before tax and shipping)>
OR
2. Collect orders from friends and earn Bonus SHOPPING DOLLARS
OR
3. Join as a demonstrator and enjoy access to Demonstrator Perks ,Customer perks and Host perks as your own customer!
Great reasons to Join My Team