Check out how easy it is to alter the beautiful Springtime foils specialty designer paper by mixing rubbing alcohol and Stampin' UP! class ink refills in a spritzer and misting away.
Some basic tips
1. The strong percent the rubbing alcohol is the faster is will dry
2. Only fill the spritzer a 1/4 of the way full unless you plan to make quite a few projects with the same color – this reduces waste of the rubbing alcohol and reinker
3. Start light- add just a few drops of the reinker and test on a scrap paper for color density you are looking for. Continuing adding drops and test until desired shade is reached
4. Spritz in well ventilated area
5. Spritz with large sheet like SU's 11×17 grid paper to protect your surface
6. Allow to dry naturally OR pat with paper towel or sponge for different effect OR tip card and allow spritz to "run" for dripping effect
7. Experiment and have fun – it's just paper 🙂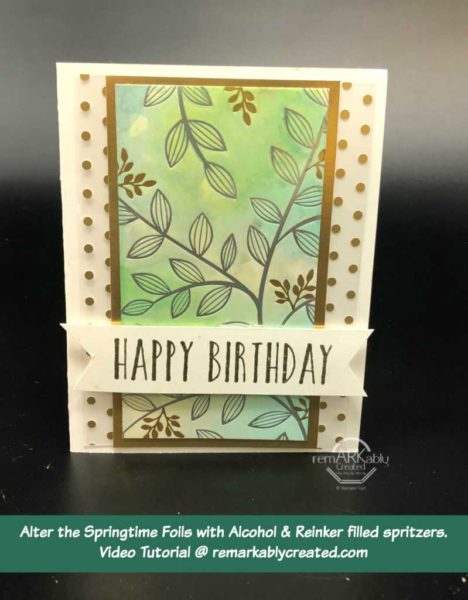 For this card I pulled the pretty fabulous foils acetate sheets out. I hadn't used them in a long time and they are a perfect partner for the spring time foils!
The ink refills used for the card are lemon lime twist and bermuda bay. The green shading is from the two colors mixing.
The greeting is embossing in gold to further emphasize the gold foils.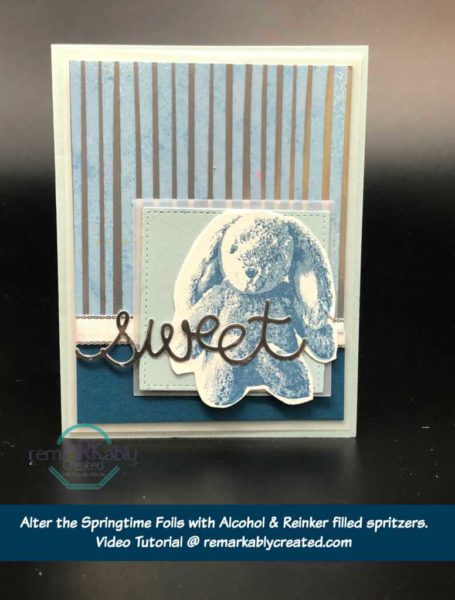 For our sweet Sombunny baby card the silver foil was spritzed with Dapper denim reinker and alcohol.
A small square of vellum cardstock is layered behind the soft sky square for just hint of softness and added layer.
The word sweet is diecut from the cupcake framelits. I love word dies and have found myself using the words from this set quite frequently.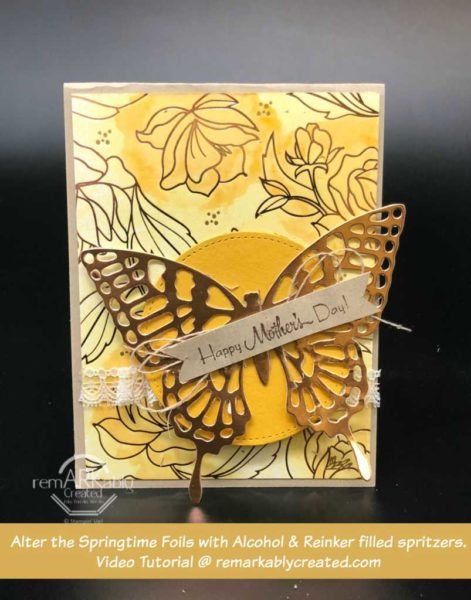 This beautiful mother's day card was spritzed with Crushe Curry and alcohol and was spritzed first and patted with a paper towel and then again just on the flowers.
You can see a small piece of rufflec lace trim peeking out on the right from under the stitched circle shape.
The copper foil die cut butterfly adds a stunning large visual element to this project.
Have some fun experimenting and remember it's Sale-a-bration. A great time to add a few spritzes and ink refills to your craft stash as well as any of the other products featured on these cards.
You can see all of the ink refill available HERE
All who shop with my during February receive a roll of white organza ribbon from the Spring catalog.
Two ways to shop
1. Online with the host code below
OR
2. By emailing me your order so I can enter it for you