*UPDATED – this class has been blended in the BUILDING A BUSINESS with Stampin' UP! year long offering – see full detaisl HERE
Are you ready to take your Stampin' UP! business to the next level?
Have you been at the same place for so long you are not sure of the next steps?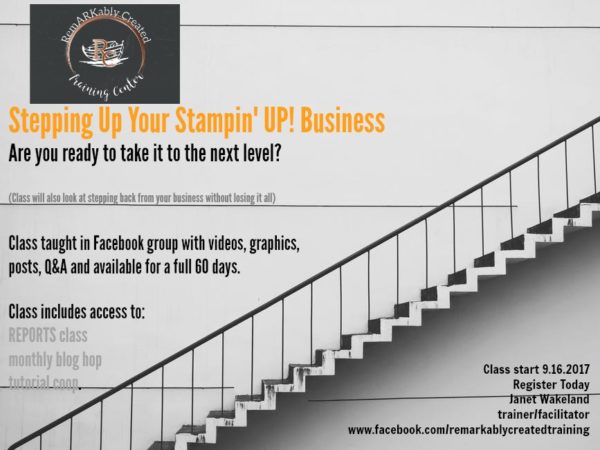 Join me in the newest RemARKably Created Training Center Class – Stepping Up Your Stampin' UP! Business.
Class begins September 16th (pm).
Class includes access to Reports class, Monthly Blog Hop and tutorial Coop.
We will also briefly look at stepping back from your business without losing it all.
Class is taught in a facebook group making it
1. Accessible from all types of devices
2. Accessible globally
3. Accessible on your time
Class is taught using videos, graphics, posts and Q&A.
Other benefits includes networking with fellow class members.
This is not a one time one hour webinar, but hours of material and an opportunity for your to ask questions, get feedback
Other classes you may be interested in:
*Remember if you are a RemARKable Team member all this training is free as part of my upline support – contact me for class links or check the team newsletter and facebook group.
1. Sharing What You Love – a class on sponsoring – $29.99
Class available beginning September 18th
2. You Tube for Stampin' UP! Demonstrators – 10.00
Class available now – access for 90 days
3. Facebook for Stampin' UP! Demonstrators – $10
Class available now – access for 90 days