Do you love to travel?
Would you like to earn a 7 day Alaskan cruise for two (airfare, cruise, extras) ?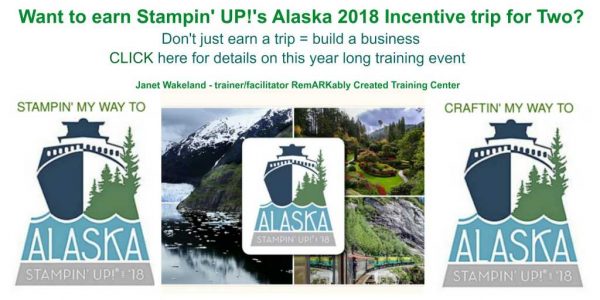 GOOD news – thanks to amazing feedback my EARNING ALASKA 2018 class will be available all year.
That means anytime you register for a class in the RemARKably Created Training Center you will also get access to this class.
THREE BONUS PERKS of EARNING ALASKA 2018
a. Focus Group – the class has a focus group for encouragement, support, timely tips based on what is happening in our Stampin' UP! world
b. Blog Hop – increase your blog exposure with our monthly blog hop
c. Tutorial Coop – save time – any month you are registered for classes you can also participate in our Tutorial Coop – use our master handout to create one tutorial , share it with the coop, then have access to use all the other tutorials shared in the coop that month.
WHY TAKE this class?
Alaska will be my 21st incentive trip having earned a trip every year since I joined Stampin' UP!.
My passion is not just in helping you earn the trip but in building a business where the trip becomes a perk of that business not just a yearly year long goal that literally requires a mental restart every year.
As an active demonstrator I am still building my own business, actively selling, sponsoring, training, learning and adapting to our changing marketplace.
WHO is THIS class for?
Anyone globally who not only wants to earn the trip but build a business
HOW IS THE CLASS TAUGHT?
The class is housed in a private facebook group and is taught using videos, graphics, pdf's where needed, posts and interaction between attendees.
Using facebook provides a unique experience that allows you to ask question, me to check in on the class almost daily and for new timely tips to be added.
In addition it means you can access the class from anywhere in the world, on your time and from multiple devides (phones, laptops, pc's, macs, netbooks,etc).
So are you ready to Learn & Earn???
Register today… Click HERE