Is it possible to make money as a Stampin'UP! demonstrator?
YES
How much is up to you and no income in direct sales can be guaranteed but YES it's possible.
Stampin'UP is my full time career exceeding my financial rewards as an RN.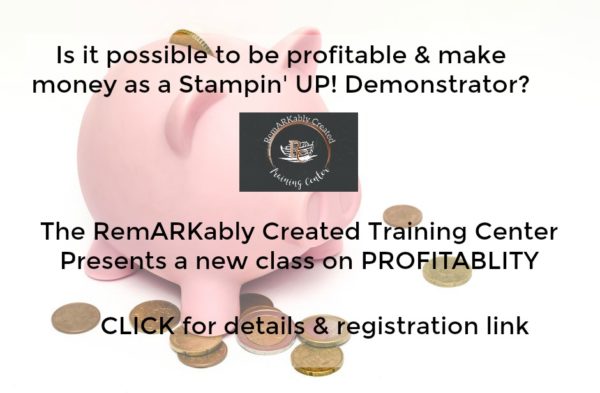 The Class will look at
*Why aren't you making money
*What's possible
*Profit vs. Making Money
*Where the profit comes from

Things like event pricing, upselling, taxes, tracking income, give aways, wise investing in your business, understanding the compensation plan and so many more things that add up to being profitable as a demonstrator.
The RemARKable Created Training Center Classes are unique in the "training" world – they are not a one hour webinar ,download, ebook, a simple record you only listen to or any thing else you may be used to from virtual online training.
The Class is housed in a it's own unique closed facebook group with each class having it's own group to stay focused on the topic being present.
Housing the class there:
*gives you the opportunity to ask questions & get answers
*allows you to view at your leisure & in your time zone,
*allows you to network with other class attendees through sharing, commenting and questions.
*gives you a chance to comment on homework assignments, tips, ideas posted
*gives me the opportunity to add new, fresh ideas and information as they pertain to the topic
The Class is taught featuring videos, homework, graphics, handouts, and access to me long after the materials are posted.
The ONE time Class registration provides you with
*unlimited access to the class indefinitely
*membership in our RCTC facebook group – home to a free class on reading your reports, blog hops, tutorial coops, swaps and general sharing by others taking what they do as demonstrators beyond simply enjoying the discount.
*me as I pop in to answer questions and post new and timely ideas as the class evolves
Investment in your business – $39.99
Register Today
Class begins January 25th.
*Members of the Building a business class – see the class facebook group for discounted registration
*RemARKable team members all the training center classes are free to you as part of my upline support of you and the team. See team news for link.
***********************************************
You can see all the currently offered class HERE
See you in class.
janet