I posted earlier about my 2017 Stampin' UP! Holiday catalog product shares feature a designer paper sampler, ribbon sampler and embellishment sampler.
Here is a video showcasing all that is included and below the video a repost of the Share details and information.
Oh My – so many pretty ribbons, beautiful designer papers, cool embellishments, sparklies in the 2017 Stampin' UP! Holiday Catalog.
I have put together a taste of all of them in my Holiday Catalog samplers. Check it out below.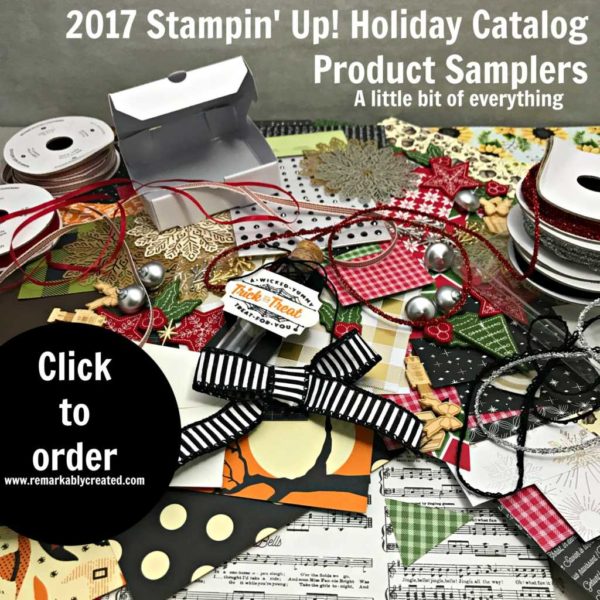 Two choices for the samplers – On Single Scoop or a Double Scoop with the same shipping cost as a Single.
Single Scoop
50 6×6 Designer Paper Squares
26 1/2 sheets of coordinating cardstock so you are ready to create
6 yards of ribbon
20 embellishments
1 row of black rhinestones
1 pizza box
1 acetate box
2 3×3 envelopes
2 FREE gifts – Embellished Test Tube & ready to assemble Ornament from kit
___________________
Total -$35.88 – includes tax and priority shipping with tracking #

TWO SCOOPS – Double of everything above – one shipping price
Total $64.81- includes tax and priority shipping with tracking #
Contact ME for paypal invoice and approx shipping date.
(If you are a RemARKable Stampers team member check the latest team member for team pricing).