Thank you stopping day #3 of my 7 days of Cheerful tags with a daily give away of a set of Cheerful tags framelits.
Congratulations to winner #2 Shawna Ault.
Enjoy my post and sample and look for details at the end of the post for the 4 ways you have to win the Cheerful tags framelits.
Today's card is inspired by life events.
Sadly last evening I attended a viewing of a favorite family aunt and have the funeral to attend to this morning.
Funerals while sad are also a celebration of life well lived and rebirth in a new heavenly body. Aunt Ginny's faith was strong and we know she now enjoys a healed body and that we will meet again some day.
"For we know that when this earthly tent we live in is taken down (that is, when we die and leave this earthly body), we will have a house in heaven, an eternal body made for us by God himself and not by human hands." 2 Corinthians 5
When I think of new, spring & flowers always come to mind so our new Daisy Delight suite with its beautiful designer paper and daisy punch were perfect in my mind for this sympathy card.
The card uses two elements from Cheerful tags. The framelits are not just for tags and sometimes we get distracted by "labels" and miss out on some great possibilities and crafting opportunities.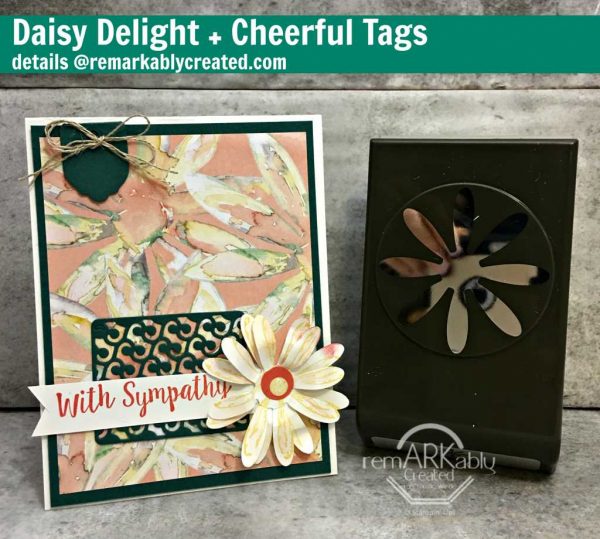 So how would you like a chance or better yet – 7 chances to win a set of these framelits??
Starting today for the next 7 days I will be hosting a CHEERFUL TAGS week of temptation. Each day I will give away one set of cheerful tags.
Now of course they are 50% off and you can have a sure bet by just ORDERING THEM …
But you can also try to win them by
NEW WAY today – You have not yet subscribed to my newsletter SUBSCRIBE today – 50+ tutorials each month, personal customer specials and more
OR any of these three ways if you haven't already:
a. Pinning either of these two images below to a board and sharing the link in a comment
OR
b. Referring a friend to my blog who comments with your name
OR
C. Heading over to LIKE my facebook page if you have never done so then commenting below that you did!
Yes you may enter more then once.
Winner will be announced in the next day's post featuring a new tempting cheerful tag project.