Welcome to our RemARKable Ink Big Blog Hop. I love networking with fellow demonstrators and for this new monthly hop my friend Lisa Pretto have teamed up to hop with members of our Stampin'UP! teams and our respective training groups.
I hope you enjoy our Sale-a-bration inspration.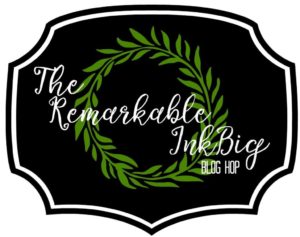 For my project I am using one of the new VERY limited release stamps exclusive to Sale-a-bration. What makes these "very" limited?? They were just released February 22nd and are only available until March 31st and only WHILE SUPPLIES LAST.
During Sale-a-bration this beautiful two stamp set can be chosen with any $50 purchase.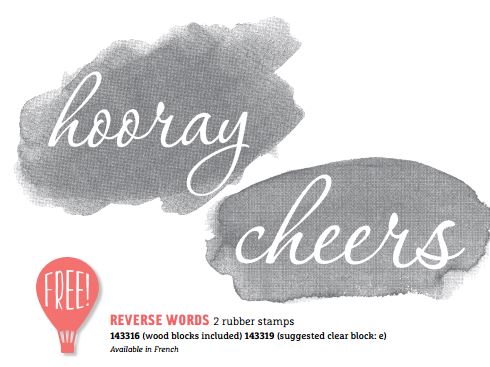 I kept my sample here simple with white embossing and few easy to add embellishments (swirly diec cut and lace doily). I love the look of white ink on crumbcake and the white embossing gives just that look.
And one more idea using the other stamp in the set – HOORAY. In Stampin' UP! our titles as demonstrators are based around bronze, silver, gold, & platinum and it's fun to use our products to create congratulatory cards for our team members featuring color coordinating products. Here is a card for one of my newest Silver Elites. I love all the shimmer, shine and glitz on this card.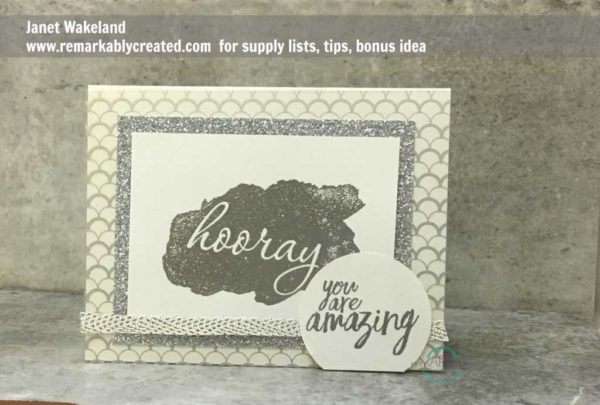 You can view all the second release items HERE ….
Thanks again for stopping by and I know you are going to find lots of inspiration and CASE worthy ideas on the blogs of these fellow hoppers.
See you next month on the 2nd Sunday.
Blog Hop Line Up:
1.
Lisa Pretto
2.
Janet Wakeland
3.
Peggy Noe
4.
Nicole Watt
5.
Beth McCullough
6.
Lisa Ann Bernard
7.
Jennifer Michalski
8.
Kadie Labadie
9.
Tricia Chuba
10.
Amanda Dickson
11.
Megan Herst
12.
Chris Miller
13.
Diana Eichfeld
14.
Gloria Plunkett
15.
Jennifer Spiller
16.
Anna Masciovecchio
17.
Debbie Henderson
18.
Debra Byrd
19.
Lisa Milligan
20.
Kim Vogel
21.
Sharon Hashimoto Burkert
22.
Katarina Ewa
23.
Valerie Moody