In honor of Earth Day I created a charm insert from a fragile pressed flower. What a beautiful reminder of our need to preserve our resources.
1. Press and Dry Flower
2. Cut two pieces of acetate to size needed for charm insert
3. Place small dab of crystal effects on each piece of acetate
4. Lay pressed flower on top of first piece of acetate with the dab of crystal effects
5. Sprinkle dazzling diamonds glitter for effect
6. Layer second piece of acetate with crystal effects side down on top of flower
7. Ink stamp of choice (I used the CHARMING stamp set) with stazon, stamp on top of acetate
8. Insert into charm!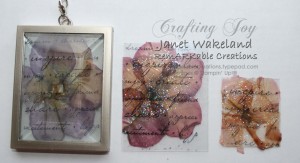 Crafting Joy
jan