Welcome to Day #2 of our  RemARKable Open House Blog Tour –hopefully you are being wowed by the creativity and imagination of my fellow team members. Don't forget that each RemARKable neighbor on this tour is offering the same class to their customers that includes the HOUSE PDF/Pattern, and an IDEA sheet with a total of 30 house ideas on it.   
As one of my customers if  here are 3 ways you can participate in this class
  a. Take in Person – February  15th, February 28th,  or March 28th
  b. Take at any Crop & Craft – February 5th, February 20th, March 13th, March 19th
 c.  Take by mail – watch your inbox for those on my mailing list for details
          *Register today – info@remarkablestampers.com
Today's Post features my Embellished Scripture Tea Bags. But I need your help- I have a long list of "TEAS" and associated scriptures but have some "teas" that need ideas and would love a much longer list to keep the tea time going for months! You can download this MS word document and email me any ideas you have to TEAS and or coordinating scriptures. I will continue to post the updated list under my FREEBIES tab.
If you are interested in having me do this project with your women's group just let me know.
  Keep God a Priori-tea – KEEP GOD a PRIORI-TEA
TEA BAGS – Stampin'UP! table setting Bigz XL Die, Stampin' UP! Fancy Favor Bigz XL Die, Sahara Sand Cardstock, Very Vintage Jumbo Wheel, Vintage Brads, Pretties Flowers.
   a. Wheel cardstock
   b. Cut "napkin" ring from Table Setting die – this will be your tea bag holder
   c. Trim edge of tea bag holder as shown below so it fits in fancy favor box
   d. Print "teas" on whisper white cardstock
   e. Punch with oval punch
   f. Embellish as desired
   g. Fold in half, secure with flower and brad
   h. Slide tea bag inside
   i. You can open up the tea bag holder to mark the scripture reference. 
   j. Cut fancy favor box – assemble, embellish as desired, place tea bags inside
  h. Place in box (note there is still room for more goodies – that's day#3)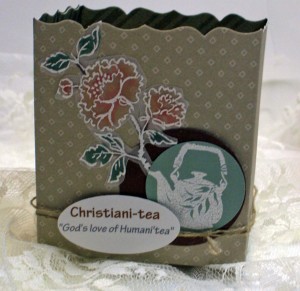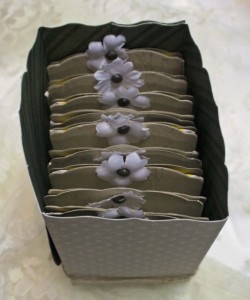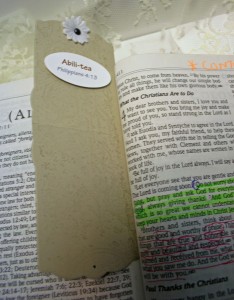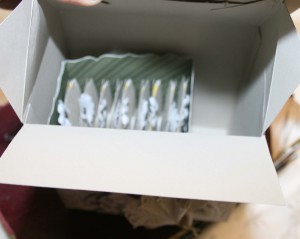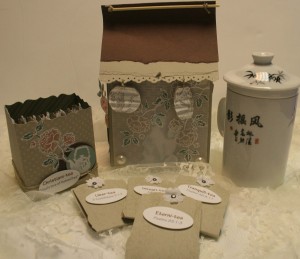 So…. are you ready to move into the Remarkable Stampers neighborhood yet?  If so, we would love to have you!!  We are friendly, supportive of each other, and as you can see very creative and we love to have new people join our community.  To find out how you can be a part of our neighborhood, contact your RemARKable Demonstrator on this tour. Stampin' UP! has  a great :"move-in" special going on right now . If you don't have a Demonstrator you currently work with , feel free to contact me.