Digital Crafting – MDS, MDS2, My Digital Studio
Posted On: February 1, 2011

Explore the World of Digital Crafting with MY DIGITAL STUDIO:
MDS 2 IS HERE – 75 New Features Added to MDS – you can watch an overview of many of them HERE  
Do something Digital -
FREE Introductory and Advanced MDS WEBINARS for those who purchase MDS through me – janet@remarkablycreated.com
FREE Instroductory and Advanced MDS Training 1:1 for those local
FREE MDS Classes/Home Parties – SHEdule yours todays
MDS Catalog ( PDF) – most current YTD www.mydigitalstudio.net
WEEKLY MDS DOWNLOADS – SHOP HERE  
How to create an account and purchase my digital studio downloads (PDF) -HOW ORDER MY DIGITAL STUDIO DOWNLOADS
MDS PUNCH CARD – With your First My Digital Studio DOWNLOAD Purchase become a Member of my Frequent Download Card – Card mailed to you along with some fun goodies – Begin Shopping today
*DIGITAL DESIGNING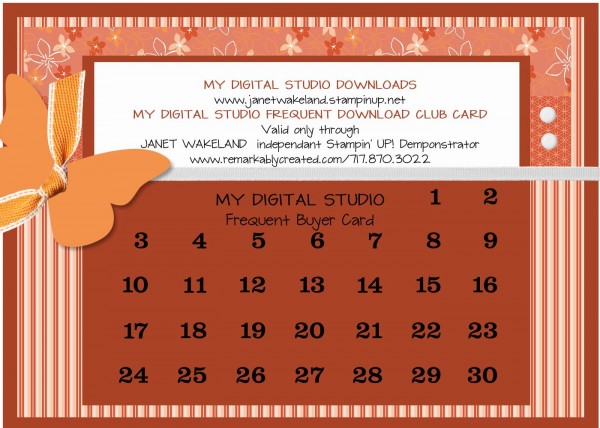 MDS Video Training Snip Its – Click on any link to go to that Post with sample & video snipit 
MDS Monday – Using Opacity (Coming Soon)
MDS Monday -Using the Grid Tool (Coming Soon)
JANET's TIPS FOR LEARNING My Digital Studio – My Digital Studio Guide (PDF)
Q: What is My Digital Studio?
A: My Digital Studio is an easy-to-use design software featuring thousands of Stampin' Up!'s award-winning images, colors, and accessories. Compatible with PC and Mac operating systems, My Digital Studio allows designers of all skill levels to create their own digital projects or use hundreds of templates to make professionally designed cards, photo albums, scrapbooks, and more.
Q: What are some of My Digital Studio's features and benefits?
A: My Digital Studio has three main components:
Boxed Software: My Digital Studio software enables you to digitally create a variety of projects including (but not limited to) photo albums, cards, calendars, individual scrapbook pages, and multimedia projects that use exclusive Stampin' Up! art, accessories, and colors. The software contains nearly 2,000 unique elements including stamp brush sets, embellishments, photo and designer templates, punches, card stock, Designer Series papers, and more—all in exclusive Stampin' Up! designs and colors.
Digital Downloads: Stampin' Up! is in the process of creating an ever-increasing library of My Digital Studio digital downloads that are perfect for seasonal projects, important events, or everyday creativity.
Professional Print Services: My Digital Studio gives you the option to have your projects professionally printed and delivered right to your door. Our professional print services are the best way to insure correct color matching with Stampin' Up!'s exclusive colors.
HOW CAN I EXPLORE MORE OF DIGITAL CRAFTING?
 Contact me today at janet@remarkablycreated.com to begin exploring Digital Crafting.