Learned A New My Digital Studio Trick – A Man's Survival Card Kit – Video Tutorial
I love that you cant break My Digital Studio – it's also pretty hard to lose anything accidently unless you blatantly ignore the "SAVE" buttons that pop up. Recently I was trying to create this project and was trying to save time by using a project I already had created before.  Within MDS is a button uder edit – called Change Project Size type.  Great feature – unfortunately for me the project  I was trying to change was bigger not smaller and because of the size I started with I was unable to use this feature. BUT I circumvented it -and found a new trick… Watch the short Video Tutorial to see the trick I learned that still allowed me to use the images/features I wanted from the original project. Then enjoy my finished project .
The Man's Survival Card Kit can be purchased directly from me – it contains 6 cards, 6 envelopes – your choice from 24 cards and the handy DVD Storage case - janet@remarkablycreated for paypal invoice or save $$ and come make your own cards – customizing the sentiments/greetings at my newly added "A MAN'S SURVIAL CARD KIT CLASS" – more details janet@remarkablycreated.com
I am excited to have a fun gift to keep the men in my family out of the dog house this year – IF THEY CAN REMEMBER to use the cards that is.
This project is made even quicker through the use of card templates in MDS. I used templates and simply altered either the greeting or slightly tweaked the color. It took just minutes to come up with 24 card fronts to give you choices in your Survival Kit and to provide variety within the kits for the men in my family.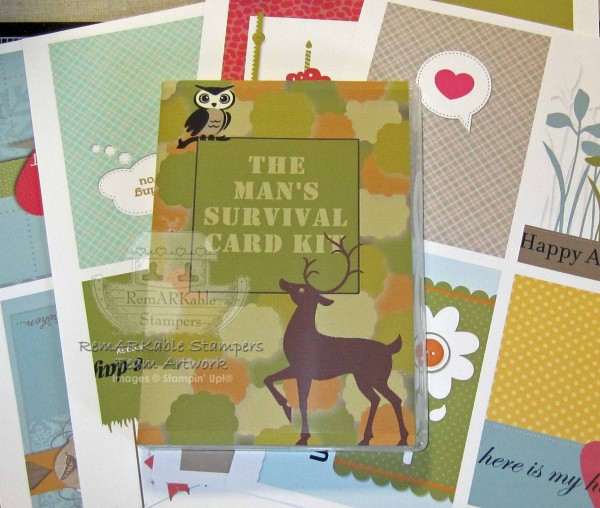 MDS Tips – using Previously Created MDS Components in new projects

Crafting Digital Holiday Joy
Janet
« Previous post
Next post »