Take 3 Tuesday – 3 Easter Scrapook Layouts
Today's Take 3 Tuesday features 3 Easter Themed Scrapbook layouts. Some of these layouts will be featured as the Take & Make (yes that is not backwards) at our Team Gathering this weekend and our RemARKable Diva event.
 These pages get me closer to being "caught'  up(Said tongue in cheek – look at the date of the Egg hunt 1992 – I've said it before but I have found that with my two kids off to college and the nest being a little empty and quiet having these really old photos to do is quite fun and brings comfort – so don't stress over being "caught up" simply enjoy the moment and know that God will provide a way to comfort you in ways you didn't expect – mine was in un-caught up scrapbooks).
EGGS -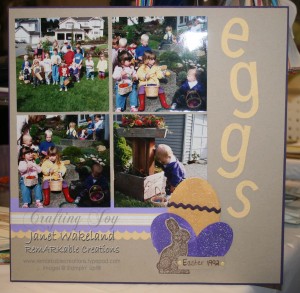 Supplies – Chocolate Bunny Stamp, Ovals #2 Big Shot Die, Versamark pad, Clear embossing powder (with a few flecks of white embossing powder), Masterpiece Ribbon Originals, So Saffron Striped Grosgrain, Dotted Impressions Folder, Stampin' UP! Alphabet Simple letters, Eggplant cardstock, Kraft Carstock, So Saffron Carstock, Lavendar Lace Cardstock, Modern label punch, brads.
FRIENDS – My only regret about my kids childhood is that I wished I had taken better photos – that I knew than what I know now about scrapbooking as it relates to photography. Oh well. I am preserving even the not so good photos because they have a story to tell as well.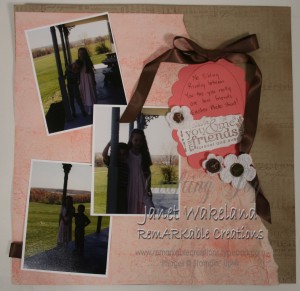 EASTER – My children have a special bond – they are blessed.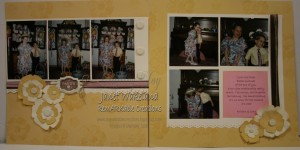 Crafting Joy
Jan
« Previous post
Next post »